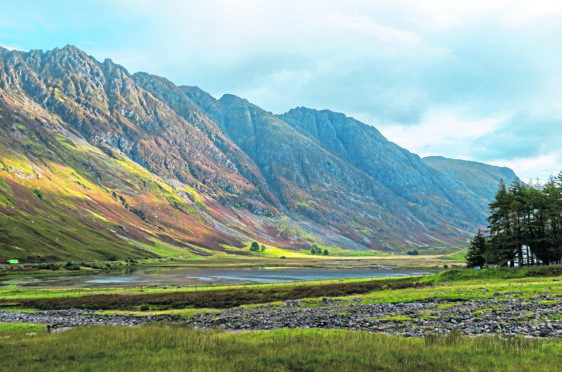 Tourist attractions in the north of Scotland are set for increased global exposure after being named among the UK's top must-do experiences.
Glencoe, Up Helly Aa, Ben Nevis and the Braemar Gathering were among 42 attractions in the north and north-east named in Lonely Planet's list of the UK's top 500 unmissable attractions and hidden gems.
For the first time, its travel experts have chosen the best sights and experiences and ranked them in order of their brilliance in Lonely Planet's Ultimate United Kingdom Travelist.
Number One on the list of the most "memorable, beautiful, surprising and compelling experiences" to be had in the UK is the Edinburgh Festival Fringe.
This year's festival attracted nearly 1,000 acts from 63 countries and, according to Lonely Planet, "nowhere beats it for spectacle or scale."
It called it "the greatest show of arts and culture on Earth."
Top in the north and north-east of Scotland is Glencoe at number 17, with Skara Brae (22), the North Coast 500 (37), the Fairy Pools on Skye (41) and the Cairngorms National Park (43) also making the top 50.
Other experiences making the list ranged from taking a dram in Speyside to the changing colours of Old Aberdeen.
Glencoe has benefitted in recent years from providing the backdrop to several blockbusting films, including the James Bond thriller Skyfall and Harry Potter and the Prisoner of Azkaban.
The nature reserve also attracts Monty Python enthusiasts after it was used for scenes in Monty Python and the Holy Grail.
Ben Nevis, the UK's highest peak, continues to be a mecca for hillclimbers and at number 66 comfortably makes the top 100.
Up Helly Aa, the Viking festival of fire which takes place in Shetland each January, came in at number 109, while the Braemar Gathering – attended by the Royal Family for more than 100 years – is number 274.
VisitScotland chief executive Malcolm Roughead said: "Scotland is home to many amazing experiences so it's no surprise they feature prominently in Lonely Planet's list.
"Accolades like this highlight Scotland as a world-class destination but it is imperative that we don't become complacent.
"We need to continue to create must-see experiences, events and attractions that continue to inspire travellers and keep up with the ever-changing demands of visitors."
He added: "Tourism is vital to the Scottish economy, reaching every corner of the country, creating jobs and bringing economic and social change."
The Ultimate United Kingdom Travelist was collated with the input of Lonely Planet's network of more than 100 UK travel experts.