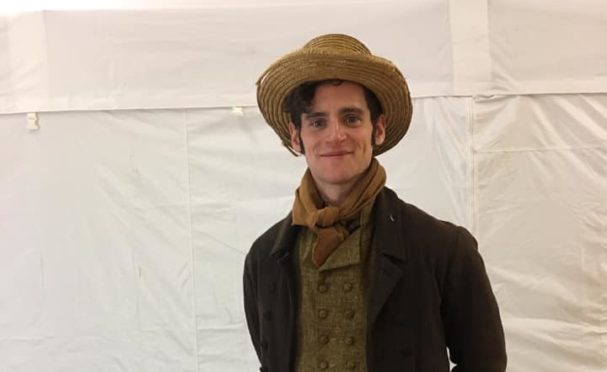 Based on Jane Austen's unfinished work and set in a Regency seaside town in England, the Highland connection is not immediately obvious.
But viewers of ITV's new period drama Sanditon are being treated to some celtic tunes, thanks to Lochaber musician Ewen Henderson.
The front man of traditional group Manran was involved in recording music for the period drama, and even made a short appearance on screen.
The idea of having Highland music on the production is not as unusual as it first may seem, as Mr Henderson explains: "It might just have been a happy co-incidence that Highland music was used in Sanditon, but traditional tunes were popular in the Regency period in the south. The music really seems to work as a backdrop for Sanditon.
"I wasn't aware of this Regency period fashion for traditional Highland music until I was researching for the recordings, and I found that Nathaniel Gow, the son of a very famous Highland musician Neil Gow, was one of many band members from the north who were popular in the Regency ballrooms in London and the south of England at the time.
"So it seems appropriate that traditional music and Gaelic culture are at the centre of the new drama."
Inspired by Jane Austen's unfinished final novel, Sanditon is the story of young, penniless and beautiful Charlotte Heywood as she navigates the social life of a developing Regency seaside town at the forefront of the economic changes of the age.
Mr Henderson continued: "I was delighted to be asked to record the music for the production by its composer Ruth Barrett. I am very thankful for the opportunity to work on something so exciting.
"At first I was only involved in the music for a few of the ballroom scenes and in a tavern.
"But it must have fitted well with what the producers wanted, as I was then used for the whole of the series."
Mr Henderson, was also called upon to be an extra on set in the production, continued: "It was very exciting to get dressed up in Regency clothes and be part of the production.
"It's completely different from the day job of music and performing – there is a lot of waiting around for things to happen, and to be called onto the set. But on the second day of filming there were five traditional musicians there – so it was good craic."