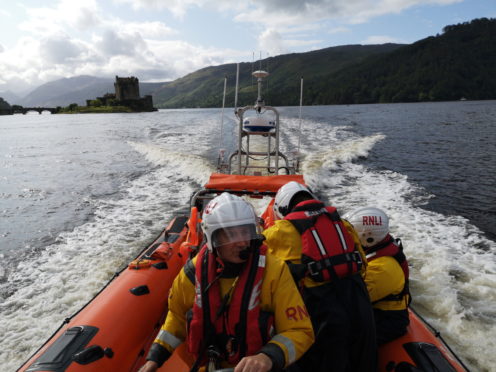 A man was rescued by lifesaving volunteers after falling more than 20 feet while admiring a historic Highland monument.
The sightseer was taking pictures of Eilean Donan Castle from a vantage point on nearby rocks when he tumbled into the water below shortly after 10am.
His partner was forced to run about a quarter of a mile to the castle to seek help.
The casualty was able to haul himself back to shore where he clung-on until rescuers arrived.
Emergency services swiftly made their way to Eilean Donan where they plucked the man from the water.
Kyle lifeboat 'The Spirit of Fred Olsen' arrived at about 10.22am and there was support from Kyle and Portree coastguard and the Stornoway coastguard helicopter.
The man was assessed at the scene by paramedics and then taken by ambulance to Broadford Hospital for further treatment.
A Kyle RNLI spokesman said: "While visiting the area on holiday, the couple had stopped in a layby to take pictures of the castle when the casualty fell off the rocks and landed in the water below.
"His partner then ran about a quarter of a mile to the Castle to raise the alarm.
"The currents are extremely strong in that area, but he managed to get to the shore and hold on until help could arrive."
With the man trapped on the shoreline at the base of the rocks, the spokesman said a paramedic had scrambled to the man's aid to assess the severity of his injuries.
Unable to make it further up the rocks, crews decided the best course of action would be to transfer the casualty onto the lifeboat and transport him to the slipway at Dornie village hall.
During the short voyage, the crew began trying to warm up the casualty who was extremely cold and wet.