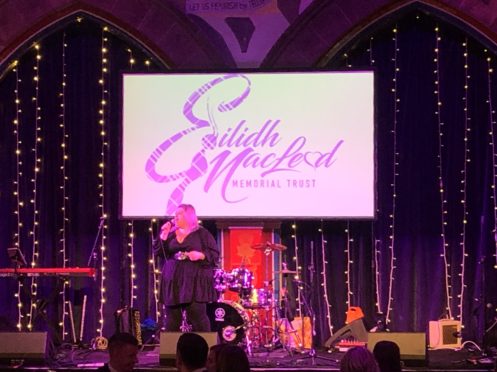 The family and friends of Manchester bombing victim Eilidh MacLeod have helped rally almost £20,000 to help youngsters realise their musical ambitions.
The 14-year-old, who lived on Barra and was a member of the Sgoil Lionacleit Pipe Band, was among 22 people killed at the Airana Grande concert in 2017.
Her best friend Laura MacIntyre, 15, survived despite suffering horrific injuries.
The Eilidh MacLeod Memorial Trust officially got off the ground with a Tartan and Tiaras Ball at Oran Mor in Glasgow on Friday night, complete with a charity auction.
The trust will honour her memory by paying for music classes for young people.
It will also manage and maintain a permanent memorial to Eilidh and a garden of remembrance and reflection on her home island.
Singer and broadcaster Michelle McManus, actor and comedian Sanjeev Kohli, Glasgow-Hebridean band Trail West and bagpipe rock band Drums and Roses joined a host of young and upcoming musicians at the event.
Music enthusiasts from Barra and Vatersay were among the 250 people who attended, along with many friends of the trust from the Manchester area.
Eilidh's pipe tutors and band mates, former school teachers, friends and family were also on hand for the poignant event.
Final totals are still to be counted, but organisers yesterday estimated they had raised around £18,000, with just under £14,000 coming from an online auction.
Suzanne White, founder of Eilidh's Trust, said: "Our official launch event was a real celebration of what the trust has achieved so far and recognised the love and support we have received from so many people since we were established in October.
"The atmosphere was amazing, with many traveling long distances to be with us at Oran Mor.
"The ball was a resounding success and exceeded our expectations.
"The warmth shown to the trust and our ambition of supporting other young musicians to follow in Eilidh's footsteps was marvellous, and we are overwhelmed by the generosity of everybody who attended the ball.
"We were also delighted to make donations to the Sgoil Lionacleit Pipe Band, which Eilidh was a member of, and the Manchester Community Pipe Band.
"This funding will help the bands to continue their important work with young pipers, allowing them to fulfill their potential.
"We cannot thank everyone enough for their support. It is their energy, words of encouragement and selfless acts of kindness that are helping push us forward to giving Eilidh the musical legacy she deserves."