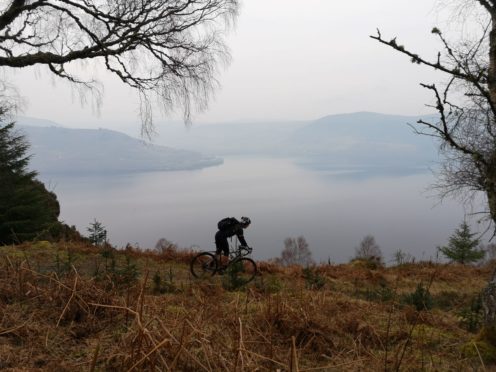 Adventure seekers are being encouraged to test out their stamina and mental strength following the launch of a new endurance event on the Loch Ness 360 trail.
The trail loops the entire circumference of the iconic loch.
It offers 80 miles of panoramic views and incorporates both the Great Glen Way on the north side and the South Loch Ness Trail on the opposing side.
In an effort to raise the profile of the route and generate economic benefits to the surrounding local communities, Visit Inverness Loch Ness (VILN) has announced details of a major new endurance event called the Loch Ness 360ﹾ  Challenge for the Highland's top thrill seekers.
Graeme Ambrose, chief executive of VILN, said: "If you are really looking for something a bit different, to test your stamina and mental strength in the iconic surrounds of Loch Ness, the Loch Ness 360ﹾ Challenge is for you.
"We want this to become an annual event in the Loch Ness event calendar.
"The LochNess 360ﹾ trail is a fantastic new asset with which to sell the attraction of the area as a holiday destination and the LochNess360ﹾ Challenge provides the opportunity to not only further raise the profile of it, but also to provide genuine economic benefit to businesses and communities around the loch."
The three day challenge – which will debut in May 2020 – will provide participants with a choice of five alternate running and cycling objectives.
The most extreme test requires the participant to run the entire trail within 24 hours in a test organisers are calling an 'ultra-marathon'.
---
Local and Proud: Follow our new Facebook page dedicated to the Highlands and Islands
---
With over 3,000 metres of ascent, contenders have to not only be very experiences in off road trail running but also have experience of running distances in excess of around 50 miles.
Alternatively, individuals can choose to complete the circuit by completing a 'marathon a day' or merely complete one or two; meanwhile, cyclists will be given the opportunity to mountain bike the entire route in a maximum of 14 hours.
Festivities will begin in the village of Dores encompassing rest stops in both Drumnadrochit and Fort Augustus before coming to a close at the events inaugural starting line.
The event is being delivered in partnership with headline sponsor SSE Renewables who have pledged their financial support behind the initiative, with No Fuss Events and Visit Scotland also lending their support to the event.
Jim Smith, Managing Director of SSE Renewables, said: "We're thrilled to be part of the first ever LochNess360ﹾ Challenge.
"This area has been our home for many years, housing some of our oldest hydro stations to our newest wind farms.
"It's incredibly important to us to be able to leave a lasting legacy in this wonderful community and we hope that this will be the first of many years of the LochNess360ﹾ Challenge."