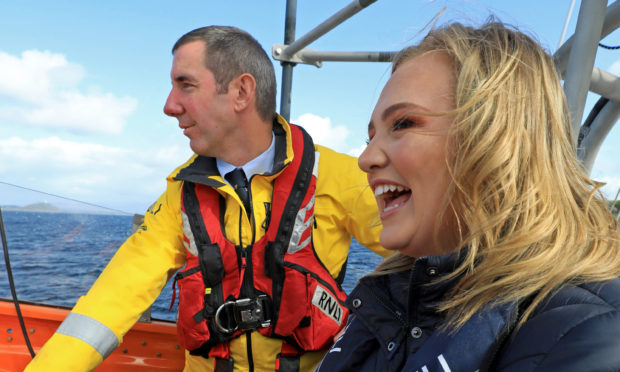 Celebrating your 18th birthday is always a major occasion.
But for one islander who was born at sea it was an extra special day.
Kerrie MacGillivray, who arrived aboard Oban Lifeboat on September 13 2001, was given a presentation by the crew yesterday.
The RNLI has a tradition of gifting any baby born on a lifeboat with a commemorative lifeboat bell.
Crew members who were on the shout when Kerrie was born, together with midwife Hazel Munro, gathered at Oban Lifeboat Station to welcome Kerrie back and present her with her bell.
The crew was paged at 3.34am to collect Kerrie's mum Fiona who was in labour on Mull.
The lifeboat launched with a midwife from Oban hospital on board. Kerrie was born at 6.16am just as the lifeboat entered the bay on its return journey.
Kerrie, of Pennygown Farm, just outside Salen, said: "To be one of the few people to be born on a lifeboat is something quite special.
"I'm known as the water baby, that was what was written in the news when I was born.
"When my mum speaks about that day, she just says it was a mad morning.
"It was really special today that all of those people were there just for me. It was nice to go over and meet the people who were on the boat the morning I was born. That was the first time I have met my midwife, since the day I was born. That was really nice."
Coming into the world in such a rush has obviously given Kerrie a taste for speed. She is due to act as navigator for her dad, James, for the first time at this year's Mull rally. She has an older sister, Shona, 21.
In his book, The Story of Oban Lifeboat, Willie Melville writes: "Midwife Hazel Munro joined the crew on this service (much to the relief of the crew lads who were without crew member Dr Colin Wilson on this occasion) and it was not surprising to find that the baby's middle name is Hazel! The return to service shows the hon sec's remarks as 'Coxswain and crew suffering from a mixture of elation and shock……all recovered after a bacon roll and a mug of strong tea.'"
Yesterday the crew all wished her a very happy birthday.