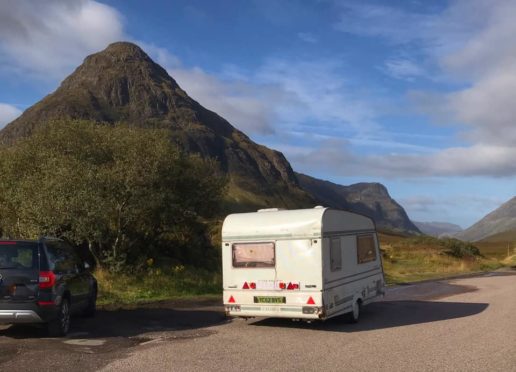 Residents are shocked after spotting an apparently abandoned caravan in one of the north's most scenic areas.
They say whoever left behind the caravan behind on the side of the A82 Crianlarich to Glencoe road should be prosecuted, and the caravan should be removed immediately.
The caravan has broken lights, bashed panels and a burst tyre – it is understood that it has been there for some weeks. The vehicle is unlocked and has two different number plates on it.
After years of raising concerns about the rubbish people leave behind such as tents and clothes, locals say this apparent dumping tops the list.
Residents were alerted to the caravan on social media, when one man said: "Looks like someone has dumped their caravan at the side of the road on A82."
Councillor Andrew Baxter, who lives nearby in Kinlochleven, said: "I suppose we are at the point now that nothing amazes me anymore.
"How anyone thinks that is is acceptable to bring a caravan to the area and then leave it behind amazes me. It also saddens me that people do not have respect for our area."
A spokesperson for BEAR Scotland, who maintain the A82,  said:  "Our teams report any large items on the trunk road network to the local authority who's responsibility it is to arrange for removal.
"We've passed details of the caravan to teams at the Highland Council to arrange for safe removal from the roadside."
Environmental health officers at Highland Council said they would be looking into the matter.
A spokesman for the local authority said: "Abandoned vehicles legislation covers abandoned caravans.
"The police have the legal power to remove any vehicle left in a position that they consider is causing a danger or obstruction or if the vehicle has been dumped and left for more than 28 days.
"A vehicle will generally be considered as abandoned if it has been discarded or dumped.  It is not based on the length of time it has remained on site.
"If a vehicle has been discarded or dumped, Environmental Health officers can investigate."
Environmental health can be contacted on 01349 886603.