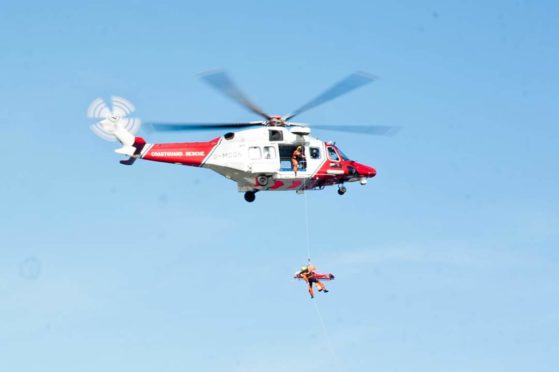 A 72-year-old plunged 20 feet into "perilous" harbour waters yesterday and was airlifted to hospital with back injuries after a dramatic life-saving rescue.
The crew of Buckie Lifeboat had to send in their inflatable Y-boat to negotiate through the pier structures at Portgordon in Moray to locate the man, who was found clinging to a rope to keep his head above the water as the tide was rising
Lifeboat coxswain Alan Robertson said: "He is a very lucky guy. He still had a heavy rucksack on his back when the crew found him.
"They continued to assist keeping his head above water while carrying out first aid.
"Firefighters managed to lower a ladder down to the scene, and the casualty was placed on to a spinal board and was eventually airlifted by the Coastguard helicopter and flown to Aberdeen Royal Infirmary."
He added: "The tide had just started coming in and thankfully it was a beautiful calm day, otherwise it might have been totally different."
Local couple Colin and Karen Hanover contacted the emergency services after hearing "shouts for help" from the man's wife, who had gone looking for her husband because he had failed to return home.
Mr Hanover, also 72, said: "The poor chap had fallen through a gap between two piers and it is a 20 foot drop."
He said the man was lying in shallow water but the tide was coming in and he started "becoming anxious".
He added: "I got a bit of rope from the quay and put it down to him to hold on to and he managed to keep his head above the water as the tide came in.
"Within minutes the police, ambulance, fire brigade, lifeboat, coastguard teams and helicopter were there.
"The lifeboat put two crew on an inflatable and they went to help the man while the firefighters put a ladder down. He was placed in a special cradle-type stretcher and lifted to the pier before the helicopter took him away to hospital.
"He was lucky his wife went looking for him and that it was a nice day."
The alarm was raised just after 11am and all emergency services attended.
Firefighters assisted the lifeboat crew using ladders to help move the casualty to a safe location before he was airlifted to Aberdeen Royal Infirmary, arriving at 12.45pm.
A Police Scotland spokesman said the casualty, believed to be from the area, had suffered back injuries which were not life-threatening.