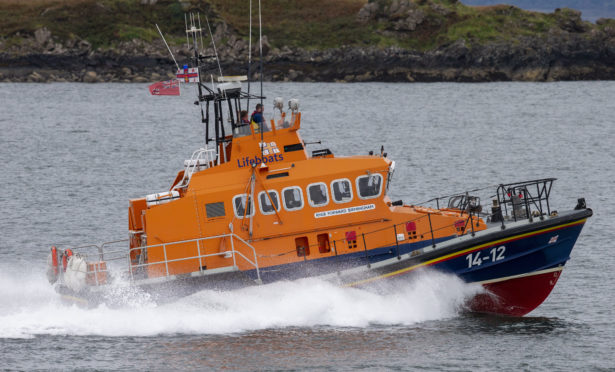 A major search operation of a Highland loch was launched yesterday afternoon, following a report of a person in the water.
However, after nearby vessels joined Oban Lifeboat, the Coastguard Rescue Helicopter from Prestwick and local shore-based coastguard rescue teams to perform an intensive sweep of Loch Creran, Stornoway Coastguard confirmed that nobody was at risk.
The RNLI Oban Lifeboat crew was paged shortly before 4pm.
A spokesman for the coastguard said last night: "We had a report of a person potentially in the water, but we have saturated the area and are satisfied there is nobody at risk.
"We are treating it as a false alarm with good intent."
A number of boats which were in the area joined the search. They included three fast rescue craft from a passenger vessel and two work boats.
Coastguard Search and Rescue Teams from Oban, Inveraray and Appin were also involved in the operation.
Iain MacKinnon, watch manager for Oban Coastguard, said: "It was staff at Glensanda Quarry at Rhu Garvh who spotted someone swimming about half way across the loch.
"A huge surface search took place across the loch and the shore area. Along with the emergency services, some work boats from Glensanda and the fast rescue boat from the Hebridean Princess cruise boat also joined the search.
"Every loch in the west coast of Scotland is extremely cold no matter the time of year. There is a great interest in wild swimming, but we encourage people to take care.
"The concerned staff were absolutely correct to call the emergency services. Don't ever hesitate."
A spokeswoman for the MCA said last night: "At around 4pm, HM Coastguard received a report of someone seen swimming in that area.
"The area was intensively searched with the RNLI life boat, the coastguard helicopter and other vessels. Nothing has been found and the search has been called off unless further information becomes available."
A police spokeswoman said: "We received a call at 4.20pm with reports of a person in the water on Loch Creran."
In January last year, an oyster farmer died after being pulled from the freezing waters of the North Argyll loch.
Hugo Vajk, 62, was found face down after having an accident at work and was subsequently airlifted to Oban Hospital, where he was pronounced dead.