GALLERY: Britain's most advanced super warship calls into Highland port
By
Alistair Munro
October 4, 2019, 6:12 pm
Updated: October 7, 2019, 9:53 am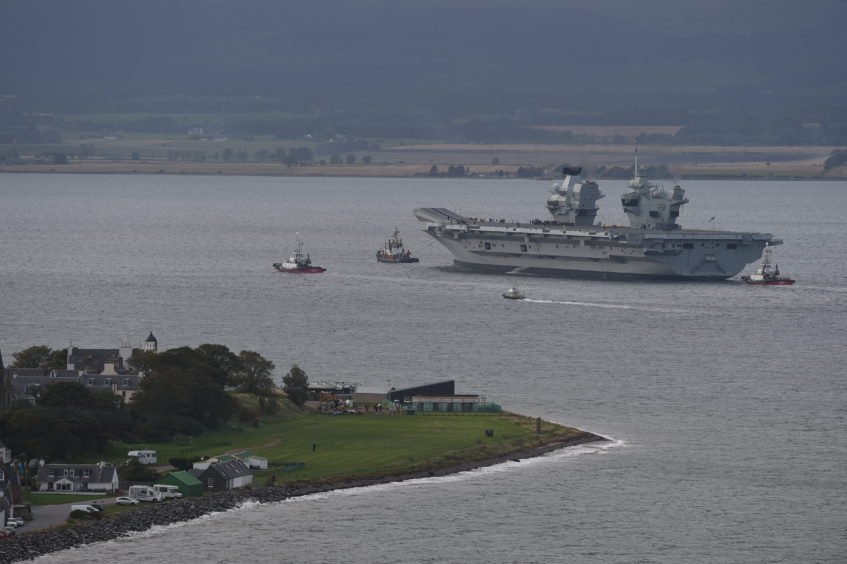 Britain's newest aircraft carrier – the £3bn HMS Prince of Wales – cruised in to the Cromarty Firth today to restock on fuel and supplies at Invergordon.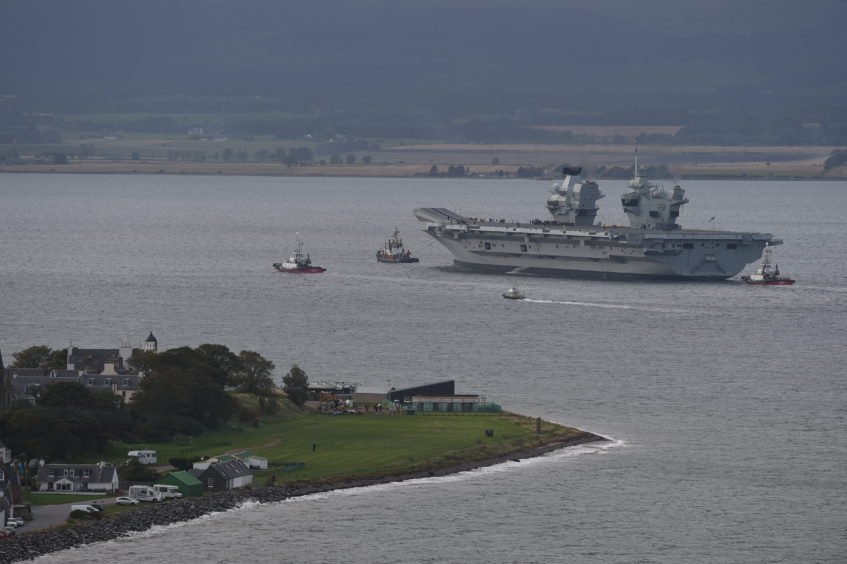 It was her first port-of-call since leaving Rosyth dockyard, where the 65,000-tonne supership was built, to then undergo sea trials in the North Sea and outer Moray Firth.
HMS Prince of Wales, with hundreds of crew on board, will make a brief stay in the Highland port before continuing her trials throughout the autumn.
She is expected to draw huge crowds to the town over the weekend, and her presence has been welcomed by local councillor and SNP Group Leader, Maxine Smith.
She said: "Invergordon is seeing an increasing number of naval vessels docking and they are always welcome.
"It will mean business for the local hostelries and shops and an opportunity for the sailors to get a taste of Highland hospitality."
Further short breaks are planned in Invergordon during the trials to take on fresh supplies before making her debut in Portsmouth – joining sister carrier Queen Elizabeth – followed by a formal commissioning in December.
HMS Queen Elizabeth also conducted sea trials in the Moray Firth and North Sea in 2017 and spent a prolonged period in Invergordon after debris got stuck in a propeller.
The Royal Navy said HMS Prince of Wales had this week achieved top speed of 25 knots when its six engines were pushed to "full throttle" in the North Sea trials.
It took almost all the 109 Megawatts of power – enough to meet the needs of a small city – to propel the 65,000-tonne warship along at full speed.
And it required another two miles of clear sea to bring the 920ft aircraft carrier to a stop again – such is the momentum generated by the engines running flat out.
Overseeing the full speed trials was Rob Firth, who said: "I felt privileged to be the first Propulsion Warrant Officer to take HMS Prince of Wales to full power."
The carrier is powered by four diesel generators and two gas turbines, run by the 170-strong marine engineering department.
They monitors and operates the generation, propulsion and fluid systems that provide the ship's company of up to 1,600 people with the 'hotel services' – fresh/hot/cold water, electricity, air-conditioning, sewage and rubbish systems – as well as powering the engines, sensors and weapons systems on the UK's most advanced warship.
The ship is building on the experience of her older sister HMS Queen Elizabeth, currently in the USA for F-35 Lightning jet trials.
Aside from more than 600 sailors, led by Commanding Officer Captain Darren Houston, there are around 400 civilian contractors to bring the engineering systems, radars, communications and essential systems to full working order before the vessel is officially handed over to the Royal Navy in December.