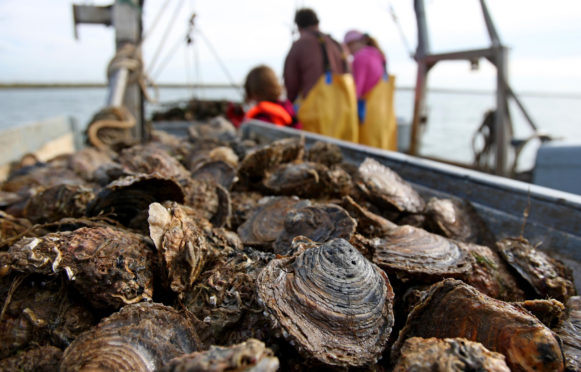 The country's largest salmon farm operation has lost almost a quarter of its stock – worth £7.6million – along the west coast and Western Isles over the summer.
The blame for massive numbers of farmed salmon dying at farms owned by Mowi is being put down to health issues following warmer than usual sea temperatures in Scotland.
Although the salmon grew better in the milder conditions, so did parasites and algal blooms which weaken the fish.
As a result, hundreds of thousands of salmon are thought to have perished recently, the firms has confirmed.
The problems have hit Mowi, the UK's largest fish farmer by nearly £7.6 million over the summer, according to its recent financial report.
An estimated 24% of fish were lost at nine sea farms along the west coast and Western Isles over the past four months, according to the firm, previously known as Marine Harvest – a major employer in remote coastal communities.
Surviving fish at affected sites are now being treated or harvested earlier than usual in a race against time to minimise losses.
Loch Erisort sea loch in Lewis is currently experiencing "unprecedented" losses.
Two years ago, some 125,000 salmon died in the same loch following an attack of pasteurella skyensis.
Bagh Dail Nan Ceann farm in Argyll is now empty after many salmon suffered a bacterial infection and the rest were harvested.
Fish at Loch Ainort in Skye, Poll Na Gille off the island of Shuna, Camus Glas in Lochaber, and Rum have been hit.
Fish losses have also been experienced at numerous other sites.
Costs in the busy run up to Christmas are expected to increase due to lower quantities of fish and the more "challenging biological conditions."
Temperatures in sea lochs where the farms are anchored – the second highest annual average recorded in the last decade – have aided in providing ideal growing conditions for harmful algal blooms and has exacerbated health challenges common to salmon, the company says.
Gideon Pringle, Mowi Scotland's production director, said: "Unfortunately some farm locations have suffered higher than normal mortality rates over the past few weeks.
"Our farmers are devastated to have lost fish after spending months raising them at their farms, and are doing what they can to protect their fish from this prolonged change to their environment."
To help alleviate fish stress from high water temperatures and associated reduced saturated oxygen, Mowi farmers are providing fish with additional air bubbling where feasible.