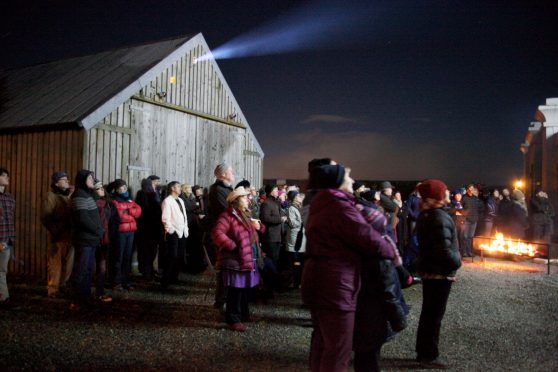 The programme for the 13th annual Cromarty Film Festival has been announced – including a documentary about the Greenpeace oil rig occupation.
The event, which draws hundreds to the Black Isle village, will take place from December 6 to 8.
Some famous faces and award-winning behind-the-scenes talent will be welcomed to Cromarty in a three-day celebration of cinema.
Lindy Cameron, a member of the organising committee, said: "It is a great weekend that attracts people from all parts to Cromarty – but our focus has always been on creating something for the locals here.
"It provides everyone with the opportunity to get away from the madness of the Christmas build-up and it creates just the most wonderful and magical atmosphere."
Guests for this year's instalment include best-selling author Denise Mina, acclaimed journalist Lesley Riddoch and directors Zara Balfour and Vicki Lesley, all of whom will introduce some of their favourite films.
The airing of the Greenpeace documentary is the first time it will have been seen in the village where world media attention descended back in June.
The festival is scheduled to open in spectacular style with a selection of short films curated by Glasgow Short Film Festival, which will be beamed onto the side of the iconic Cromarty Lighthouse whilst locals and guests warm themselves by roaring fire braziers with a dram in hand.
Throughout the weekend quirky spaces around town will be radically transformed into magical pop-up cinemas – from a former beachside slaughterhouse turned coffee shop to a local resident's living room.
Ms Cameron added: "The festival has a lot of heart and that has been reflected through our choice of films.
"We have some great guests lined up, who all give so much of their time and effort and we are so very appreciative of them."
Included in the programme of events is a talk from Oscar and BAFTA-nominated sound recordist Stuart Wilson – who has worked with the likes of Martin Scorcese and Wes Anderson to create sound for Skyfall and all the recent Star Wars films.
Mr Wilson will introduce the Oscar-winning The Constant Gardener, which he worked on, sharing some of the challenges and rewards of shooting on location in Africa.
The event is taking place ahead of the opening of a dedicated permanent cinema to serve the local community in January next year.