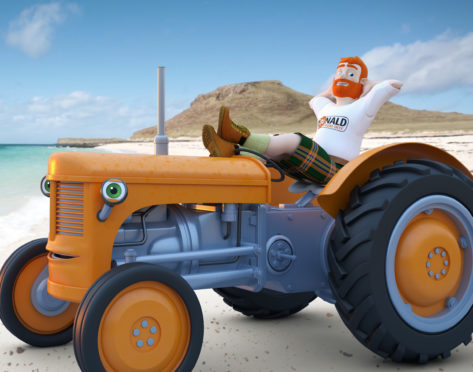 A row has erupted between the creator of a virtual tourism ambassador for Skye and the island's tourism management organisation.
Calum MacDonald, the man behind Donald from Skye, has hit out at SkyeConnect after the then-chairwoman wrote to his public relations (PR) representatives asking that the launch of his character be delayed to allow for the project to be discussed with the organisation.
Mr MacDonald said: "This has caused me a great amount of stress and has been on my back for the best part of a year.
"I invited all members of SkyeConnect to attend my launch event on Skye ahead of the global launch and none of them showed up.
"I was so shocked to receive an email just three days later."
In an email sent by the former chairwoman of SkyeConnect Shirley Spear, she said board members were "alarmed" that Mr MacDonald had "launched his own attempt at marketing Skye without any consultation with anyone who is involved with SkyeConnect".
She requested that Mr MacDonald's PR firm halt the promotion of their client's new character, stating: "I implore you, as PR specialists who already know me very well, to advise your client to liaise with SkyeConnect's board of directors on this 'marketing campaign'."
Mr MacDonald added: "The whole idea behind my business model was to create this chatbot to address the issues Skye was facing together but Skye Connect has provided zero support.
"It was designed to be a tool to assist people visiting Skye and to save the island's reputation but Skye Connect has done nothing to help with that."
A spokesman for Skye Connect said the organisation was aware of Mr MacDonald's concerns and has "neither endorsed nor been critical of the Donald from Skye product" adding that accusations of SkyeConnect acting in an intimidating and bullying manner are "untrue and offensive".
He said that there has been "no direct contact, or no grievance raised with SkyeConnect" since the email was sent on November 9 last year.
He concluded that the ethos of the organisation is to "help and support fledgling businesses and entrepreneurship" to ensure "Skye has a vibrant and sustainable tourism industry".