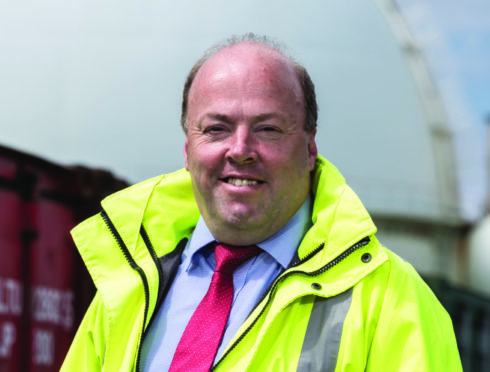 Tributes have been paid to Dounreay's acting managing director Steve Beckitt who has died at the age of 55.
Mr Beckitt had only just started his interim role in the hot seat at the nuclear plant following the unscheduled early departure of Martin Moore.
He was found dead on Tuesday.
A well-liked individual, Mr Beckitt had worked his way up from a process engineer in his 32-year career in the nuclear industry.
A chartered chemical engineer, he worked in Dounreay's fuel fabrication and reprocessing plants before being promoted to run waste management facilities and site infrastructure.
He is credited with playing a key role in adapting the site from an operational fast reactor hub to one in decommissioning mode.
In 2016, he was appointed chief nuclear officer which gave him oversight of all activities on the site.
Under his watch, Mr Beckitt managed the clean-up of processing plants, ponds, shielded cells, laboratories and reactors and the demolition of more than 100 buildings.
Earlier this year, he stepped up to become operations director before becoming acting managing director last month.
A founder member of the International Atomic Energy Authority's international decommissioning network, he was the UK representative on its steering committee.
The site was closed on Wednesday as a mark of respect.
Dounreay Site Restoration Ltd chairman Simon Bowen said: "Steve played an incredibly important part in the work at Dounreay, and his leadership, commitment and passion was an inspiration to his colleagues on the site and across the industry. He will be greatly missed by all of us."
Roger Saxon, who chairs Dounreay Stakeholder Group, had been with Mr Beckitt at an industry forum in Edinburgh in October 31.
Mr Saxon said: "It was a real shock to learn of his death.
"Steve was a lovely guy and obviously my thoughts go out to Gillian and the rest of his family for their sad loss.
"I always found Steve very helpful and he was very diligent at keeping the stakeholder group in the loop about anything that had happened at Dounreay."
Mr Saxon was yesterday waiting to learn who has taken on Mr Beckitt's interim role.
A DSRL spokesperson said: "We are working to well-established processes, with management arrangements in place to ensure that the site continues to operate safely and compliantly."