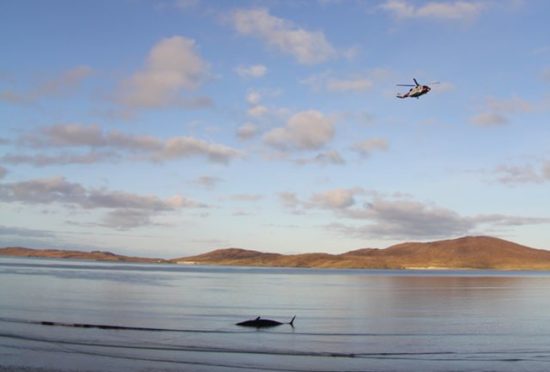 A sperm whale which washed up in the Western Isles had a staggering 16 stone of plastic in its belly.
The 52-foot whale – believed to be an adult male – was seen on Wednesday night near West Tarbert on the Isle of Harris before being stranded on a sandbank at Seilebost on Thursday.
Despite valiant efforts by rescuers, the whale died at the scene.
Members of the Scottish Marine Animal Strandings Scheme performed a necropsy at the weekend.
A spokesman said: "In this whale's stomach was approximately 100kg of marine debris – a whole range of plastic including sections of net, bundles of rope, plastic cups, bags, gloves, packing straps and tubing.
"All this material was in a huge ball in the stomach and some of it it looked like it had been there for some time."
He said that while it was possible this was a factor in the stranding, they couldn't find evidence it had impacted the intestines.
But he added: "This amount of plastic in the stomach is nonetheless horrific and must have compromised digestion."