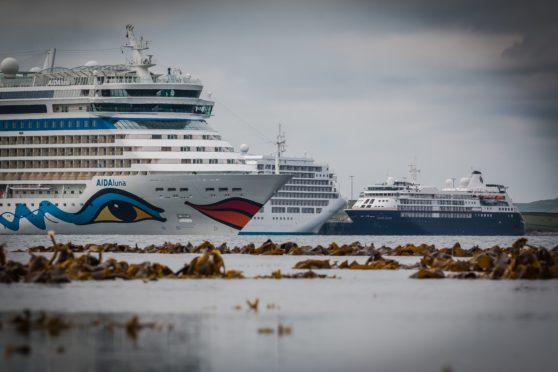 A lucrative contract worth in the region of £1.2 million to transport visitors from cruise liners to Orkney's main town is out for tender.
Orkney Islands Council is seeking bids from potential providers of a shuttle bus service as the current contract, which has been in place for the past four years, is due to end.
The demand for a service comes on the back of the tourism boom currently being experienced on the islands, with latest figures estimating that of the 304,000 annual visitors, around 130,000 have visited Orkney from cruise liners.
Tourism is worth in the region of £50 million each year to the northern isle.
The three-year contract will come into effect in early 2020.
Brian Archibald, the head of marine services, transportation and engineering at Orkney Islands Council, said: "The service is very popular with cruise ship passengers who use the shuttle buses to visit Kirkwall's shops, cafes and visitor attractions and to join tours to other areas of Orkney.
"It's an important part of the Orkney welcome from everyone involved in our cruise ship offering – along with the meet-and-greet and shore excursion teams, the coach operators, tour guides and private tour providers, and all sites and shops that do so much to give our visitors a wonderful experience.
"This, in turn, is beneficial for our local economy, helping to create and sustain jobs and businesses.
"It also helps explain why our islands are regularly rated as among the best cruise ship destinations in Europe."
The provision will see shuttle buses carry passengers from Hatston Pier on the outskirts of Kirkwall to the travel centre in the middle of the town.
Buses will also depart to make regular trips between Hatston and Kirkwall at intervals of around 20 minutes.