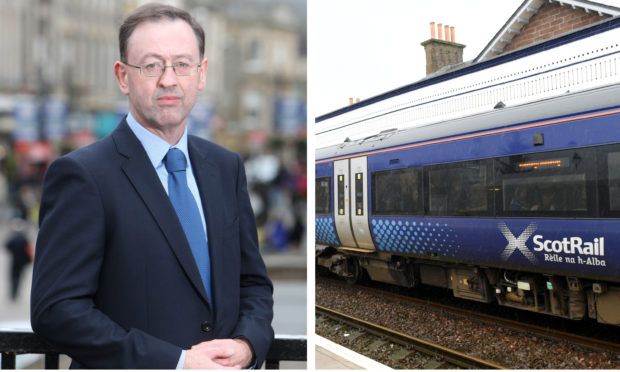 Inverness Chamber of Commerce has hit out at ScotRail for axing reservations on services to and from the north, describing it as "another slap in the face for rail passengers".
The chamber has criticised the rail operator in what it describes as "a nightmare before Christmas" as ScotRail prepares to unveil its new timetable on Sunday.
Stewart Nicol, the chamber's chief executive, made the scathing comments, pointing out the delivery of new high-speed trains to link Inverness to Aberdeen, Edinburgh and Glasgow are now not anticipated until May 2020 – more than a year behind their original March 2019 deadline.
A ScotRail spokesman said they had been let down by suppliers and were doing all they can to improve the situation.
As a knock-on of these delays, due to ScotRail not knowing which train will run the service, passengers will not be able to book seats for the next six months as seating configurations change between different types of trains.
The timing is particularly bad, taking in as it does the busy Christmas period, leaving families, the elderly and those with mobility issues unable to guarantee a seat.
Mr Nicol said: "We are hearing daily accounts of chronic overcrowding on services to and from Inverness.
"The decision to not allow reservations will further add to the chaos and is another slap in the face for rail passengers travelling to and from the north.
"At this time of year services will only get busier and therefore the problem will be exacerbated.
"Instead of modest improvements to our rail services by Christmas, we are bracing ourselves for more delayed, overcrowded, frustrating and uncomfortable nightmare journeys."
Mr Nicol added: "ScotRail is making grand announcements about improvements to every part of the network, yet there is no mention of Inverness or the Highland Main Line, never mind anything further north or west, in the new timetable.
"The ongoing situation is unacceptable."
A ScotRail spokesman said for an interim period it has "replaced" reservations, adding that they will "manage quotas" on their trains, and "will continue to sell the cheapest advance tickets".
He added that ScotRail has been "badly let down" by its suppliers of the high-speed trains Wabtec and Angel, "which means we don't have as many upgraded trains as we should have had at this point".
Local politicians yesterday emphasised their disapproval at the delays, with David Stewart MSP emphasising his frustration and disappointment.
He said improvements are "desperately needed due to overcrowded carriages and delayed services" with investment required to address the climate change emergency.
He added that there has been "limited progress" on the Highland Main Line's infrastructure over the past 11 years, believing more double-track sections are required to "make the train more attractive than taking the car".
Fellow Highlands and Islands MSP Edward Mountain added: "Passengers have waited long enough for the upgrades to be delivered and a further delay is deeply frustrating."
Mr Mountain said he will lobby the Scottish Government "to ensure ScotRail gets the new rolling stock on to the track as soon as possible so that rail passengers can finally benefit from the improvements to the Highland mainline."