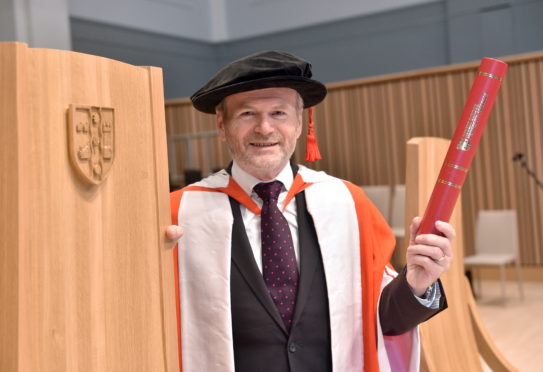 In February this year, Dave Mackay became the first Scottish-born astronaut to explore the final frontier.
Yesterday he celebrated receiving an honorary PHD from Robert Gordon University, which named him a Doctor of Technology.
The former RAF test pilot accepted the prestigious honour alongside the 265 other graduates in attendance.
The Thurso-born man took to the stage to express his gratitude and how "humbled" he was to share the day with those other graduates who had worked so hard to achieve their degrees.
Mid-way through his speech, a fire alarm sounded and Aberdeen Music Hall had to be evacuated.
Attendees huddled together in the shadow of the Golden Square as they itched to return to receive their hard-earned accolades.
Upon returning to the venue, Professor John Harper, principal of RGU, said: "There are many ways to make a graduation memorable. This was not one of the planned ones.
"I hoped you enjoyed the fresh air. When we left proceedings Dave was still in space.
"Lets bring him down to Earth and get back to celebrating all of your hard work and the achievement of earning a degree."
As Chief Pilot for a commercial space-flight company, Mr Mackay flew the VSS Unity higher and faster than any of Virgin Galactic's previous missions, travelling at three times the speed of sound and crossing NASA's official boundary for space on February 22.
As a child, he regularly witnessed fighter jets from RAF Lossiemouth training over Helmsdale, the village where he was raised.
Seeing the low, fast jets streak across the skies ignited his excitement for adventure and would eventually lead to him becoming a test pilot and, later, the astronaut he is today.
Mr Mackay said: "I feel humbled to be a part of this ceremony and to see the graduates who have worked so hard get what they deserve.
"Growing up I didn't tell anyone my dream of becoming an astronaut, but I have also learnt it is okay to be a dreamer. If you don't try you'll never succeed.
"I hope that someone maybe takes some inspiration from my journey from a small highlands village to space."