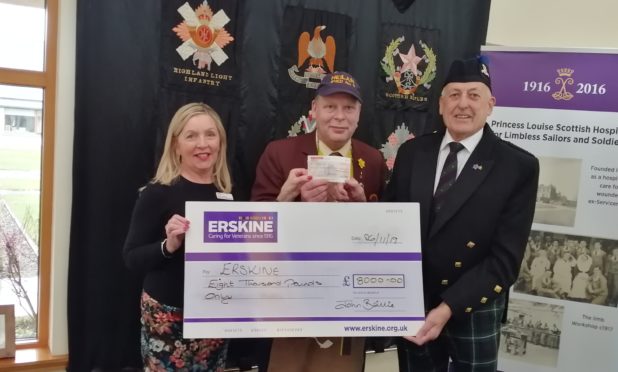 An army veteran from Inverness has raised more than £8,000 after rowing a million meters (621 miles) for Erskine.
John Baillie, 76, visited Erskine in Bishopton to present the cheque to fundraising manager Karen McAulay after successfully completing his challenge.
A former staff sergeant in 2/51 Highlands Volunteer, Mr Baillie served in the Adjutant General's Corps, including three tours of Bosnia during the 1990s.
He undertook his row without worrying about the volatile Highland weather or turning tides by clocking up the miles on his trusty rowing machine in supermarkets around the region, and places of interest such as Fort George where he volunteers in The Highlanders Museum.
Mr Baillie, who worked in security and delivery for Tesco once he returned to civvy street, said: "Erskine does a wonderful job caring for veterans and their families and so I felt taking on this challenge is the least I could do for them, whilst also keeping myself fit."
Ms McAulay said: "John is a man in a million without doubt.
"His enthusiasm, energy and good humour are infectious.
"We have watched in awe as he rowed his way towards One Million Metres to fund raise for our veterans.
"He is an inspiration to us all and we cannot thank him enough for everything he has done to raise such a fantastic amount for the care of our veterans in our four care homes."