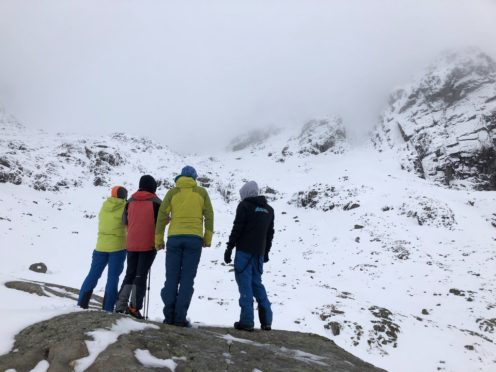 The vital avalanche risk service for hillwalkers and climbers is to start again tomorrow.
And already people have been warned of winter conditions and early avalanche risk on the hills.
The new Scottish Avalanche Information Service (SAIS) season gets underway with drifting snow and "unstable windslab."
Every winter, SAIS assesses avalanche hazards and provides daily information on the stability of snowpack in the six mountain areas.
The areas are Lochaber, Glen Coe, Creag Meagaidh, Southern Cairngorms, Northern Cairngorms and Torridon.
In an update before starting this winter's full forecast, SAIS said: "Unstable windslab will develop in wind sheltered locations on mainly South-Easterly through Westerly, through Northerly to Easterly aspects above 800 meters. Accumulations of deeper snow in wind sheltered places around gully tops, corrie rims and scarp slopes will be especially affected.
"Here, any accumulations could be triggered by human activity with avalanche releases possible. When planning your trips check the weather forecasts for snow fall, freezing levels and wind directions, especially noting lee aspects where winds will deposit fresh snow and windslab. When travelling in the mountains be alert to areas of recent accumulation and be prepared to alter your plans accordingly."
Despite one of the lowest totals of snow slides in the history of the SAIS, the first white deaths in three years were recorded on the country's mountains last season.
And there were several other near misses and "lucky" escapes too.
The SAIS logged 144 snow slides last winter – almost half of the previous season.
The SAIS season usually runs until mid-April. The forecast is at https://www.sais.gov.uk/