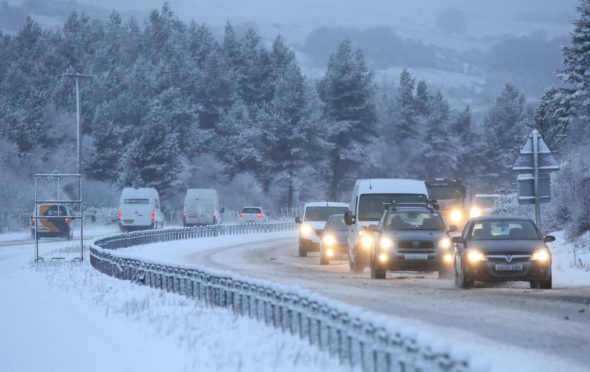 Commuters across the north faced disruption to travel as icy and snowy conditions caused chaos on roads and at airports.
Hundreds of passengers at Inverness Airport had their flights delayed and diverted due to ice on the runway halting progress.
One flight also remained stuck in Inverness for technical reasons, more than 24 hours after it had been due to depart.
The easyJet-operated flight had been scheduled to leave on Sunday evening from Inverness to Bristol but was cancelled due to a "technical issue" onboard the aircraft, with the airline putting passengers up in nearby hotels for the night.
Passengers optimistically returned to the airport today – however, the flight remained grounded before being cancelled again in the evening.
A spokeswoman confirmed the issue could not be resolved and efforts to bring in a replacement aircraft had not been successful prior to the scheduled departure time of 3.45pm.
She added: "We are doing everything possible to minimise the impact of the delay for our customers, providing hotel accommodation and meals for passengers overnight and refreshments in the terminal.
"The safety and wellbeing of our passengers and crew is our highest priority and we would like to thank passengers for their patience and apologise for any inconvenience experienced."
Further flights to Inverness from London Gatwick, Bristol and Heathrow were all diverted with the latter ending in Aberdeen, over 90 miles away from its desired destination.
Elsewhere the cold and icy conditions led to many commuters on north roads facing treacherous conditions, with a car and a gritter forced off the road near to Invergarry.
A police spokeswoman confirmed the car was reported off the road around 12.10pm before being recovered, with the gritter leaving the road in the same area around 2.40pm.
There were no reports of any injuries.
On the ferry network, some services faced disruption with the 6pm Cal Mac service from Skye to Uist held back to allow traffic adequate travel time due to the conditions.
Rail travel to and from the north was largely unaffected by the cold snap.
A snow and ice warning has also been issued by the Met Office and is due to be in place until 9am this morning.
People are being advised to take care as icy patches are expected to have developed overnight, with snow being confined to hills and mountains.