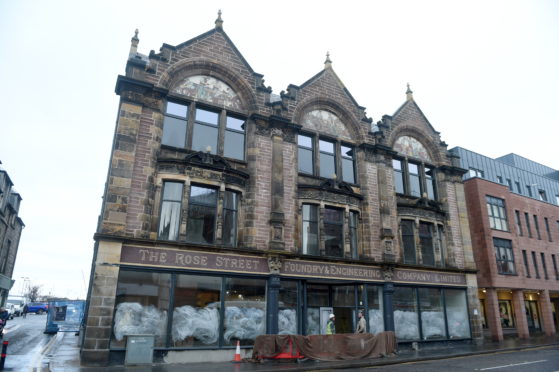 Restoration works on an 19th century building in Inverness are nearing completion as residents get their first glimpse of the finished product.
Scaffolding surrounding 96 Academy Street – known formerly as the Rose Street Foundry and AI Welders building – was removed last week, showcasing the façade of the newly developed property for the first time.
Following a series of delays to the interior restoration of the building, plans to open the doors have now been put on hold until the New Year.
Samantha Faircliff, managing director of building owners Cairngorm Taverns Ltd said it was "disappointing" it had taken so long but wants "to make sure it will be done properly".
She said: "We have all sorts of delays with Christmas and New Year holidays in between, so I really don't have a date yet because we have got equipment which isn't due to be delivered until February and when it is delivered I don't know how long it is going to take to install it.
"It's been a huge project and everything that we could have found that goes along with an aged listed building, we found it."
As developers await the delivery of the building's main spiral staircase – currently under construction in Sweden – the grand opening of the new pub and restaurant remains uncertain.
Mrs Faircliff said she simply wants to "show it at its best."
She added: "We don't want to open until it's completed. We don't want to half open with things missing because there is just so much of a wow factor with the way we have restored it that I just want everyone to appreciate how much has gone into it.
Construction on the three-story property began last year following a £960,000 grant from the Inverness Townscape Heritage Project.
Three historic mosaics, depicting the city's history of engineering and construction, were reinstated on the roof of the 19th century property in March as part of the major programme of works.
Experts from the Mosaic Restoration Company spent seven months recreating the captivating murals – originally created by Craven Dunnill Jackfield – with one having to be entirely reconstructed from scratch.
The works come 123 years after the initial instalment of the captivating artwork in 1896.
Chair of Inverness Townscape Heritage Partnership councillor Jimmy Gray spoke of the importance of preserving the historic structure.
He said: "The Rose Street Foundry building has been right at the heart of Academy Street and Inverness for well over a hundred years. The Townscape Heritage Project were anxious to retain such an important part of our heritage for future generations. We were delighted to work along with enthusiastic owners to deliver such a wonderful outcome on this beautiful building."