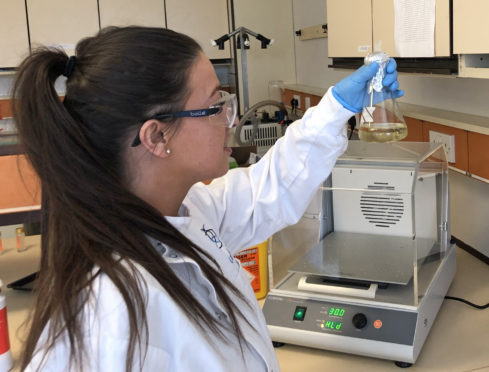 An Argyll-led project to develop plastic-free food packaging from langoustine shells has been awarded more than half a million pounds in funding.
The research and development project is being led by CuanTec Ltd, working with the Scottish Association of Marine Science (Sams).
Both are based at the European Marine Science Park (EMSP) at Dunstaffnage.
The Celtic Crustacean Collaboration has just been awarded £268,284 by Highlands and Islands Enterprise (HIE).
During the next three years the project is expected to lead to the creation of up to 13 new jobs in Argyll.
The Argyll partners are working with Versatile Packaging in the Republic of Ireland and with Northern Ireland firm, Kilkeel Seafoods.
CuanTec has developed a world-first method for biologically extracting a naturally occurring polymer, chitin, from waste langoustine shells and converting this to the base material for plastic-free food packaging.
The company's process is environmentally sensitive, cost-efficient, requires less energy, and uses 95% fewer chemicals than conventional processes.
The resulting packaging material has natural food preserving properties and will be home compostable. It also has the ability to keep food fresh and potentially extend shelf life.
This new project will focus on the commercial viability of the product through developing industrial scale methods of extracting and converting the polymer from the shells and other food waste sources of chitin.
It will further test the product against industry regulatory standards and user requirements and investigate other potential sources of the polymer.
Gillian Galloway, head of innovation at HIE, said: "Plastic packaging is recognised as being at the root of a major waste pollution problem, particularly in the sea and around the coast. This highly innovative project has the potential to help address this issue through reducing the use of plastic. It is exciting to see this level of innovation being developed in Argyll and in such a collaborative fashion."
Dr Tracy White, head of science at CuanTec, said: "We're dedicated to developing solutions to the issue that single-use plastic is creating. I graduated from Sams and I know, first-hand, the calibre of facilities and resources it offers to bio-tech businesses like ours. We're confident we're in the right place to make a significant contribution to this global challenge."