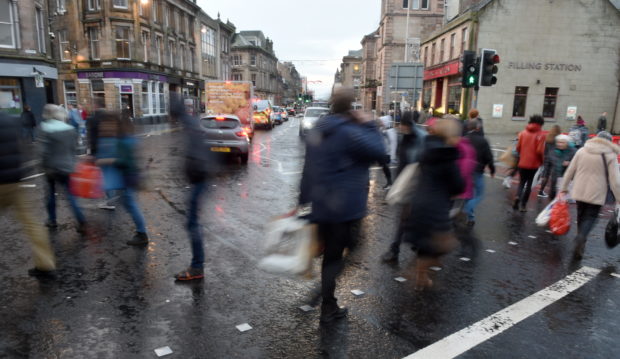 Thousands of motorists in and around Inverness faced delays today as a late flurry of shoppers led to an increase in traffic on roads and footfall through retail premises doors.
Traffic heading over the A9 on the Kessock Bridge backlogged as far as the junction of North Kessock in the early afternoon, with fellow motorists heading east on the A96 Inverness to Aberdeen road stuck bumper to bumper all the way to Allanfearn, four miles out of the city.
Some motorists also reported taking almost 45 minutes to navigate from one side of the city to the other.
Traffic Scotland yesterday issued warnings to drivers on social media about the delays.
They came after warnings had been issued to drivers in both the Highland and Moray regions to use "caution due to low temperatures affecting driving conditions".
Traffic leaving Inverness heading west on the A82 route towards Fort William was not as badly affected, moving more freely.
The backlog appeared to be mainly due to last-minute shoppers heading to Inverness to collect special final gifts and food for Christmas meals.
Andy Wade, operations manager at Eastgate Shopping Centre, said: "These last two days before Christmas are particularly busy and our car parks have been full.
"It eased off slightly in the latter part of the afternoon.
"Roads around the centre have been particularly busy with shoppers coming in and there has been a good vibe around the place.
"I am sure there have been a few who have been rushing and panicking to collect those final buys but generally everything has been quite nice."
Shelves were left bare in some supermarkets with motorists battling it out for parking spaces.
A store member at Tesco Extra at Inverness Retail Park reported the supermarket was extremely busy but added that it was not unlike the same time period in previous years.
Some shoppers travelled fair distances to partake in the last-minute efforts.
One, who had travelled through from Skye for the day, reported growing fed up of the manic nature and instead took refuge for food and a "game of pool" to escape the busy crowds.
Kevin Munsie said: "It is definitely the busiest I have ever seen it in Inverness.
"There have been shoppers and traffic everywhere.
"As long as you were patient you got through but some shop staff have said the weekend was quieter than expected and it has just blown up in the last two days."