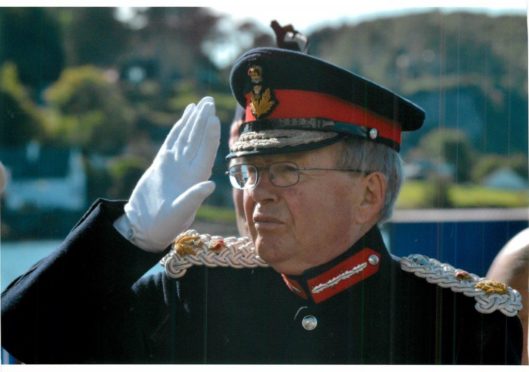 Patrick Stewart MBE, Lord-Lieutenant of Argyll and Bute, has been given the Royal Victorian Order CVO.
The Royal Victorian Order is a dynastic order of knighthood established in 1896 by Queen Victoria. It recognises distinguished personal service to the monarch of the Commonwealth realms.
Mr Stewart, 74, of Campbeltown, was first invited to join the Argyll and Bute Lieutenancy in 1987 and served as a Depute Lieutenant until 2002 when he was invited to become the Vice Lieutenant. He was appointed as Lord-Lieutenant in 2011.
His duties include arranging royal visits, presenting awards and medals on behalf of the sovereign and participating in civic, voluntary and social events.
He said: "I am very privileged to have got this award and delighted to have been Lord-Lieutenant for a number of years. It has given me a great deal of pleasure.
"I have thoroughly enjoyed discharging the duties of the office. It has brought a whole new interest to my life. It's great to be able to serve the Queen.
"The most memorable royal visit I was involved in would have to be Islay in 2018 at the centenary of the loss of the two ships Tuscania and Otranto.
"The Princess Royal and her husband attended as did the American ambassador."
Mr Stewart qualified as a solicitor in 1968. He worked in his home town for firm Stewart Balfour and Sutherland, where he became senior partner.
While working as a solicitor, he became Secretary to the Clyde Fishermen's Association and served terms as a Director of the Scottish Fishermen's Organisation Ltd and a member of the Executive Committee of the Scottish Fishermen's Federation.
He represented the fishing industry at local, national and international levels. He was appointed MBE in 2000 for services to the fishing industry.
He was a member of Kintyre Round Table for more than 16 years. He was invited to join the Queen's Silver Jubilee Trust for Argyll and Bute shortly after the Queen's Silver Jubilee in 1977 and remained with the youth fund and was its chairman for 10 years after it became the Argyll and Bute Trust.
Mr Stewart has been involved in many other voluntary organisations including the Campbeltown and Kintyre Development Trust.
Subsequent to joining the Royal Naval Reserve in 1968 he commanded the Campbeltown Unit Sea Cadet Corps for many years.
He served on the governing body of the Sea Cadets, based in London for 15 years and is now a Life Vice President of the Marine Society and Sea Cadets.