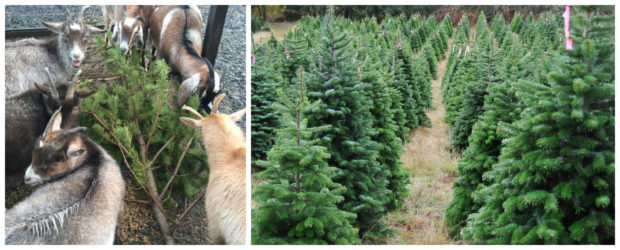 The owners of a far north petting farm have issued a plea for locals to think of their goats as they dispose of old Christmas trees.
Puffin Croft, at John O'Groats, has asked for Christmas trees still in their green spruce to be delivered to their farm in order to feed hungry goats.
Cara Young, who runs the croft, says that – providing they have not been sprayed with any chemicals – the trees are a delicacy for the creatures.
She said: "There is a popular misconception that goats eat anything.
"They don't though, and can be quite fussy, but they just love Christmas trees and Christmas trees are good for them.
"It saves people having to take their trees to the dump and it allows people to help."
Her online plea has been seen by more than 10,000 people, worrying the crofter over the number of trees which may arrive.
She added: "We only really need around 20 and we have had three delivered so far.
"What we do is we put a tree in at night and the next morning it is stripped bare bar the minor bits.
"The goats just love it."
Trees can be dropped off to the croft, as the owners are unable to collect them.