Travel chaos, power cuts and school closures as adverse weather grips north of Scotland
By
Gregor Aiken
January 7, 2020, 8:49 am
Updated: January 7, 2020, 2:54 pm
Adverse weather conditions are taking a toll on the north and north-east of Scotland today as numerous flights and ferry services are cancelled, schools shut to pupils and homes are left without power.
Flight Cancellations
A number of flights have been cancelled today due to the high winds across the north and north-east.
Aberdeen International Airport 
Flights between Aberdeen and Stavanger, Humberside and Sumburgh have been cancelled today.
Departures
Scandinavian Airlines (SAS): Aberdeen – Stavanger, 8.30am CANCELLED
Wideroe: Aberdeen – Stavanger, 8.30am CANCELLED
Flybe: Aberdeen – Humberside, 8.40am CANCELLED 
Eastern Airways: Aberdeen – Sumburgh, 9am CANCELLED 
Arrivals
Wideroe: Stavanger – Aberdeen, 8.05am CANCELLED
Flybe: Humberside – Aberdeen, 8.10am CANCELLED 
Flybe: Humberside – Aberdeen, 12.10pm CANCELLED 
Flight information can be found on the Aberdeen International Airport website.
Inverness Airport
Only the one journey, Easyjey flight from London Gatwick to Inverness, has been affected by the weather so far.
Arrivals
Easyjet: London Gatwick – Inverness, 3.15pm CANCELLED
Flight information can be found on the Inverness Airport website.
Highlands and Islands Airports
Blustery weather forced the cancellation for a Loganair flight bound for Glasgow this morning.
Departures
Loganair: Barra – Glasgow, 11.30am CANCELLED
Live flight information can be found on the Highlands and Islands Airports website.
Ferry Disruption
A number of ferry services across the north and north-east have been rescheduled and some cancelled this morning due to the adverse weather conditions.
Northlink Ferries
The 4.45pm Northlink Ferries sailing from Stromness to Scrabster will now depart at 11am and is expected to arrive at 12.30pm.
The 7pm return voyage from Scrabster to Stromness has been rescheduled and will now depart at 1.15pm with an estimated arrival time at 2.45pm.
A review is underway to decide if the Aberdeen to Lerwick sailing at 7pm is to go ahead, however there is a high probability of cancellation according to Northlink Ferries.
More information can be found on the Northlink Ferries website.
Caledonian MacBrayne 
A total of 12 CalMac crossing have been cancelled for the rest of the day, these include routes to and from Skye, Harris, Uist, Barra, Lewis, Mull and smaller islands.
The Fionnphort to Iona and Gallanach to Kerrera sailings are temporarily suspended with a service review to be carried out at midday.
Crossings from Oban to Colonsay, Islay and Kennacraig are still operational.
More information can be found on the Caledonian MacBrayne website.
Road Conditions 
Motorists are being advised to drive with caution as road conditions become affected by strong winds across the region.
Gusts of up to 75mph has forced the closure of the A87 Skye Bridge to lorries and other high sided vehicles.
The Dornoch Bridge and Kessock Bridge on the A9 are also affected by the conditions with drivers being asked to cross with caution.
A Traffic Scotland statement said: "The A87 Skye Bridge is closed to High Sided Vehicles due to high winds.
"Road users are advised to use caution crossing the A9 Kessock Bridge and Dornoch Bridge due to the current weather affecting driving conditions."
The B994 between Kintore and Cottown was temporarily closed this afternoon after a fallen tree blocked the road.
Police managed traffic until the tree was removed. The road has reopened.
Officers are also monitoring Braighe Road on Lewis with potential high tide expected later this afternoon.
Power Cuts
SSE engineers dealt with a power outage in the KW12 area covering Halkirk near Thurso this morning.
A statement from the company said: "The power went off at 8.06am after windy conditions brought two powerlines together.
"A full restoration was completed by 9.20am."
Five properties are also being affected by power cuts across the Aberdeen Beach Esplanade.
Engineers are currently at the area working to fix the issue and it is hoped that power will be restored just after 2pm.
An SSE spokesman said: "We should have the power on by 2.30pm and we apologise for any inconvenience  this may have caused."
Outages have also taken place in the PH9 areas of Moray.
SSE can be contacted by calling 105.
Castle Closure
Crathes Castle in Aberdeenshire has closed due to safety precautions with the high winds creating possible damage to trees and property.
A statement on Facebook said: "Due to the severity of the Met Office weather warning for high winds on Tuesday, 7th January, Crathes Estate will be CLOSED.
"This is to ensure safety of visitors from possible damage caused to trees and property.
"We appreciate your understanding and look forward to seeing you when the warning has been lifted."
Schools closed
A number of schools have shut today across the north and north-east of Scotland as a result of the bad weather.
Kilmuir Primary and Nursery on Skye is closed affecting 44 children in total.
In Aberdeen, Scotstown School is closed due to issues with the hot water system resulting in no heating.
Dyce Acedemy is partially closed as cleaning efforts continue following a water leak during the festive holidays.
Weather Warning
The Met Office has issued a yellow weather warning as strong winds hit parts of the Highlands and Moray today.
The warning takes effect from 5am until 9pm and commuters are being warned the conditions may lead to delays to public transport and other motorists.
A Met Office statement said: "Strong southwesterly winds are expected for parts of Scotland and northern England on Tuesday.
"Gusts of 50-60 mph are likely, with 70-75 mph gusts around some of the most exposed coastal and upland sites.
"Some delays to road, rail, air and ferry transport are likely with some bus and train services affected, with some journeys taking longer.
"Delays for high-sided vehicles on exposed routes and bridges are also possible."
Coastal routes, sea fronts and coastal communities may be affected by spray and large waves.
There is also a chance of short term loss of power.
Flooding
A flood warning has been issued for the Churchill Barriers area of Orkney this afternoon.
A combination of high tides and strong south westerly winds mean that there is a risk of wave overtopping and hazardous conditions from this afternoon leading into tomorrow.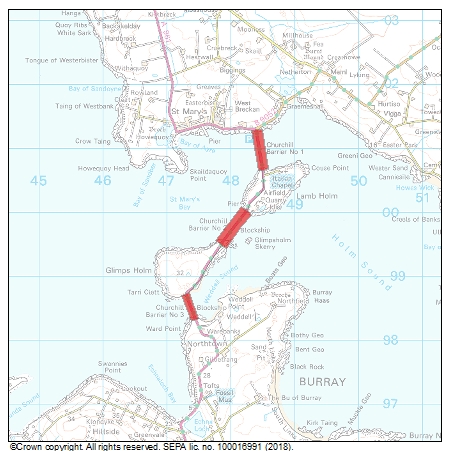 A statement from SEPA said: "The risk is particularly high around the period two hours either side of the high tide at 4.30pm and 9.30 for Tuesday and 4.30am and 10.45am for Wednesday.
"Conditions will lessen during low water but winds will remain high and some disruption may be experienced between Tuesday and Wednesdays high tides."