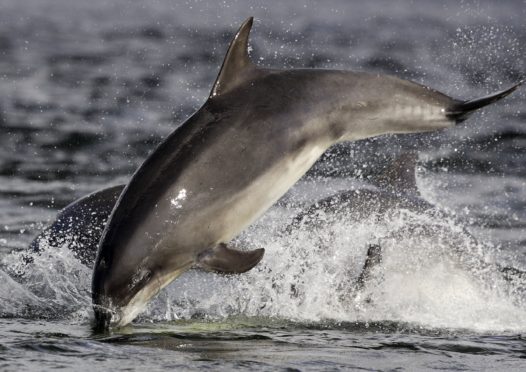 A lifeline has been thrown to some of north and north-east Scotland's most endangered flora and fauna after conservation agencies secured hundreds of thousands of pounds in funding.
The National Lottery has announced it will be contributing nearly £200,000 towards stopping the disappearance of whale and dolphin populations in the Northern Isles, as well as almost £250,000 to protect rare and endangered plant life in the Cairngorms.
Coinciding with the beginning of Scotland's Year of Coasts and Waters, funding of £190,400 from the Lottery's heritage fund will allow for the monitoring of at-risk species of whale, dolphin and harbour porpoise in the Northern Isles.
Shorewatch, which is run by marine charity Whale and Dolphin Conservation (WDC), encourages people of all ages to train as volunteers to identify and scientifically record the movements of legally protected species of whales, dolphins and porpoises, with up to 18 different species visible from the coast of the Northern Isles.
Around 180 people will be involved in collecting vital data about where they breed, feed and travel.
Their findings will feed into marine conservation planning, influencing policy and development decisions to ensure better protection for whales and dolphins.
Meanwhile, funding of £224,300 is being invested in the Cairngorms National Park, home to of rare and under threat wild plants, among them the distinctive twinflower.
The cash boost will allow staff and volunteers to embark on an ambitious programme of grassland and meadow restoration and targeted reintroduction schemes.
The Northern Isles and Cairngorms projects are two of 15 across the UK to have been awarded a share of £7.4 million.
Project officer at Shorewatch, Katie Dyke, said: "This grant will allow us to collect vital data to better understand how species use the waters around the Northern Isles.
"It will also enable us to work closely with local communities and nurture an education, connection and love for these amazing creatures we are lucky enough to be able to watch from our coastline."
And head of Plantlife Scotland, Alistair Whyte, said: "Many of our rarest and most threatened species have a special place in our culture and history, but their future is under threat.
"This funding will help us turn around the fortunes of a whole host of rare plants."