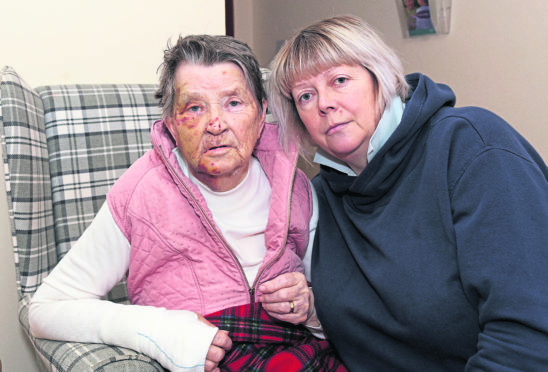 The heartbroken family of a dementia sufferer are calling for a Highland care home to be shut down after their terrified mother was found lying face down on the road more than a mile away.
Catherine Marandola, known as Irene, was found lying in her pyjamas at the entrance to Balintraid Farm in Invergordon after leaving Kintyre House Residential Home through a fire door in early hours of Sunday morning.
Following a frantic search by police and staff, the scared 79-year-old – who suffers from vascular dementia – was taken to Raigmore Hospital with cuts to her face and hands.
Her daughter Denise says her mother could have died in the incident – which she feels occurred due to failings in the care provided by the Easter Ross facility.
The 51-year-old said: "It's disgusting. She was 1.4 miles away at Balintraid farm, face down on the ground when she was found.
"My mum could have been run over and killed on that road if a car had hit her. It was pitch black.
"If she had walked across the road, taken about six to 10 steps, she could have gone over the wall and straight into the water. Who would have been responsible for that then I ask myself?"
She added: "She must have been absolutely terrified out there on her own. I know vascular dementia patients don't know a lot of things but out there in the dark and cold, face down on the gravel with just a pyjama top, trousers and a waist coat on."
Mrs Marandola – who had worked at Invergordon Distillery – was first put into the residential home two years ago after being discharged from Invergordon community hospital.
The Invergordon Home is currently operated by Gate Healthcare Limited, after being previously acquired from Lorimer Care Homes.
A spokesman from the Care Inspectorate said: "This was a distressing incident and our thoughts are with the individual affected and their loved ones.
"We are currently investigating a complaint into the circumstances which resulted in injuries to a resident of this care home."
A full investigation has now been launched by Lorimer Homes to help establish the events leading up to the incident.
Miss Marandola says the family is now calling for the Invergordon care facility to be shut down to help seek "justice and closure" for their family.
She said: "We as a family feel that someone has to stand up and take the blame for this. We want whoever is responsible for this sacked. Ideally I would like the whole place to be shut down. The place is a disaster.
"We want closure and we want justice for our mum."
In a statement to news outlets, Lorimer Homes said they are "very sorry" that the incident had happened but were unable to make any further comment until they had "shared the findings with the family and stakeholders".