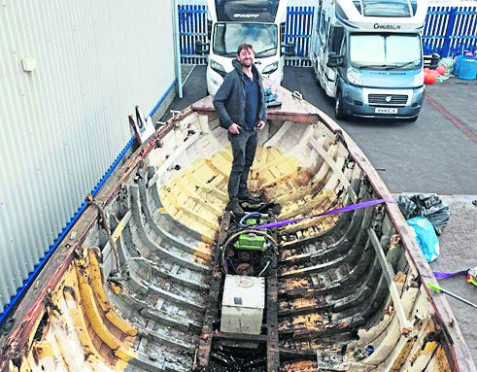 A historic boat built in Shetland in 1945 which had been left to rot is set to be saved – with the brains behind the project appealing for a shed to house her in during restoration.
Glenn Tonner salvaged the dilapidated Dagmar LK414 in August when she was in line to be scrapped after sitting in Toft for a number of years.
The boat was laying alongside the slip, with Tonner – who works in London managing a fleet of super yachts but is originally from Yell – told she was due to be scrapped immediately to make way for renovations at Toft Pier.
Tonner said the boat was originally built in 1945 by Jim Smith for Dr Peterson of North-a-Voe, Yell.
Rot was visible in several places and Tonner said the interior was in a "chaotic state".
He was given temporary space in Lerwick to take the Dagmar to, and he began removing the rotting wood and all of the fittings.
Tonner said he saved everything which wasn't rotting, with the pieces set to be reused or repurposed.
What is left of the Dagmar at the moment is the bottom shell.
Tonner is now searching for a 40ft space within a shed in Shetland to allow him to carry out repair work during the coming years.
He is based in London and plans to head to Shetland when he can to carry out the work.