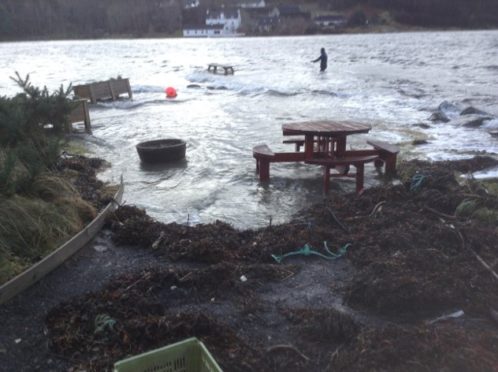 Community members leapt to the rescue of an award-winning Gairloch garden as it was battered by Storm Brendan, suffering severe damage.
The Sitooterie wildlife observation garden in Pier Road was set up five years ago by the local community and last year was one of only two in the Highland area to be awarded Keep Scotland Beautiful's  'outstanding' accolade under its It's Your Neighbourhood Scheme.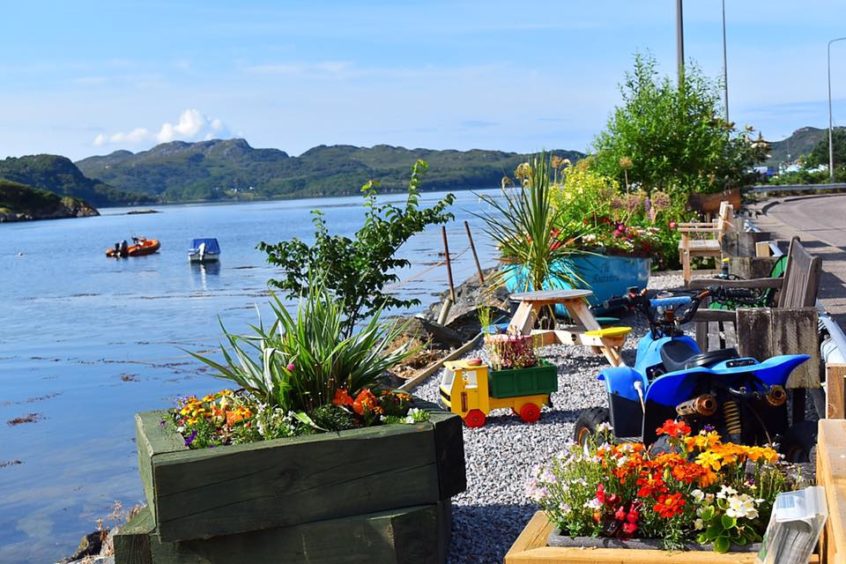 But the storm caused several sections of the waterside garden to collapse amidst 70mph winds and a recent full moon that contributed to massive high tides and damaging low pressure.
Local couple Helen Robertson and Cornelius Van Heerdon were passing at the height of the storm and stopped to rescue ornamental trees floating in the roadway and bulbs from a destroyed planter.
They also saved several other surviving planters from being swept away.
Later, Wester Ross Fisheries Manager Peter Cunningham, whose office overlooks the lowest section of the Sitooterie sitting area, spotted plants, tables and benches being swept away.
He immediately donned his wet suit and swam out with a rope to secure all the items in turn, bringing them all back to tie up on land.
Sitooterie coordinator David Carruthers  said he was delighted with the volunteers' rapid response.
He said: "Our rescuers have just been incredible and I am so grateful to them. We live in such an amazing and caring community.
"We had been watching the weather diligently but had no clue or warning that there would be such a massive tidal surge.
"These helpers have rescued so much, they have been astonishing.
"The damage is repairable and we will try to get this done as soon as possible."