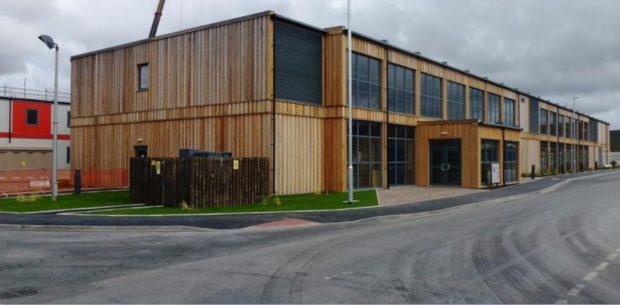 Shetland's Sella Ness accommodation facility is set to stay open until 2026 after Scottish Ministers ruled Shetland Islands Council's decision to refuse further planning permission was "unreasonable".
The Scottish Government's assistant chief reporter Karen Heywood also ordered the council to pay supplier Malthus Uniteam's expenses of the appeal.
The decision, published on the government's website, was welcomed by the company and condemned by a group of local hotel owners who had strongly objected to the plans.
Malthus appealed to Scottish Ministers after councillors rejected its application to extend the life of the 426-bedroom facility at the Sella Ness industrial estate by a further five years in May last year.
Councillors found the application to be "speculative" and contrary to the islands' local development plan.
However, Ms Heywood found in favour of Malthus, granted planning permission and said the council had failed to give the applicant "complete, precise and relevant reasons for refusal".
She wrote: "In my view, while there is still a need for the facility to support the terminal and gas plant and also the prospect that there may well be a need to house wind farm construction workers, it would be wasteful and unsustainable to remove it.
"While I am sympathetic to the problems faced by local hoteliers, I am also mindful that loss of trade and increased competition are not material planning considerations.
"I conclude that the reason for refusal is not complete or precise and that the council has not supported its reason for refusal or shown that it has reasonable planning grounds for its decision. This amounts to unreasonable behaviour on the part of the council."
Malthus Uniteam's managing director for its UK operation, Ian Jamieson, said: "We believe the capacity of the existing facility is crucial to meeting immediate, medium and long-term demand for worker accommodation for existing and future energy and construction sector projects.
"The Sella Ness facility also employs a significant number of local staff and contributes considerably to the local economy in a number of ways, including engaging local suppliers and sub-contractors."
Hotel and guesthouse owners in Shetland's north mainland said they were extremely concerned by the reporter's decision.
Spokesman Joe Rocks said the campaign group's members were "baffled" as to why the Reporter had chosen to overturn the local decision when, in his words, "the evidence was "that Sella Ness is not required".
He added that a direct consequence of the decision jobs would be lost in the sector.
Council planning chairwoman Emma MacDonald said: "The council received the reporter's decision this morning, and both officials and councillors will be looking at it in detail to consider what, if any lessons, can be learned."