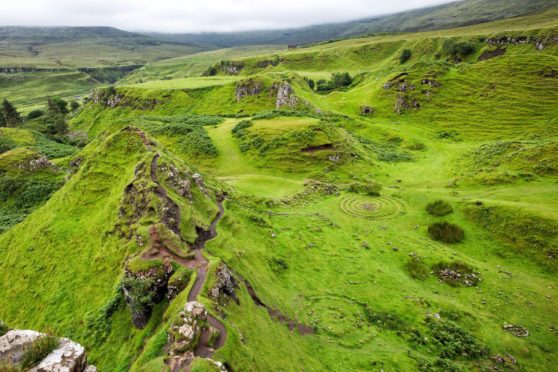 A Skye tourist hotspot – famed for its connection with fairies, a ruined castle, conical hills and a loch – will get a new car park and wider roads to deal with increased traffic.
The Fairy Glen in the north of the island is visited by thousands each year, but ever-growing visitor numbers has led to strains being placed on the island's infrastructure.
However, locals have now been successful in securing new car parking facilities after reaching "breaking point" last summer as an influx of visitors left many unable to leave their homes.
Visitors – and indirectly, locals – will now have access to a 36-space car park at the attraction near Uig, with a further 20 spaces being created on the roadside adjacent to the new parking area.
A new turning space is also being created to prevent road users from having to travel the full length of the Sheader road in order to depart, with increased signage and widening of the road to take place to make it easier for first time users of single-track roads to allow vehicles to pass safely.
Gordon Willoughby, who lives near the tourist attraction, said: "After a three-year struggle to rectify the lack of infrastructure in the Fairy Glen I am relieved to see work is now to go ahead with completion planned to be ahead of this year's tourist season.
"Although the agreed works are not perhaps the best solution for the residents, they should go a long way to improving the situation for both visitors and residents.
"If gridlocks do continue after all current works are completed, I would hope further improvements would be considered."
Construction work is hoped to be completed by the end of April with members of the local community working alongside representatives of Highland Council and the Scottish Government to secure the improvement works.
Kate Forbes MSP, who has worked closely with locals to deliver the improvements, said the community were at "breaking point" after "another busy season that meant they couldn't leave home for the sheer volume of traffic".
She said: "This is an important step forward after a lot of hard work by the community, local council officials and others.
"Obviously the critical thing is now to deliver all of these commitments as quickly as possible, but it's good to see meaningful progress."
Skye councillor John Finlayson said he was encouraged to see the work come together.
He said: "Hopefully this collaborative approach which we have seen working in other parts of Skye, will continue to be the model for the many improvements we all wish to see happen."
Fellow ward councillor John Gordon described the works as "a step forward" in easing residents' concerns.