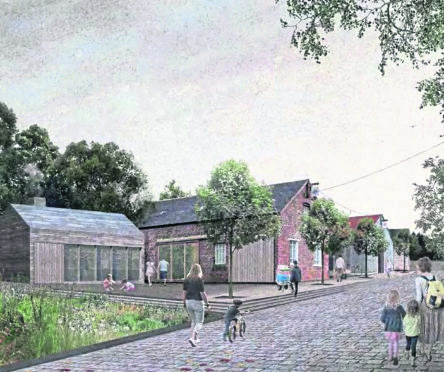 A Sutherland spot is in line for a transformation to create a community complex.
Commercial use of the site – located just off the A835 North Coast 500 trunk road north of Tongue – dates back to the early 1900s with a general store, tea rooms and garage.
By the 1930s the site became famous locally for its bakery, tea room, public transport and haulage enterprise, becoming  transforming into Burr's Stores under the ownership of Peter Burr.
Now home to the community's Spar store and filling station, the rest of the historic buildings now lie in a derelict condition.
In an effort to restore the area back to its former glory, developer Ben Loyal Ltd for Wildland Ltd, owned by Danish tycoon Anders Holch Povlsen, have outlined aspirations to transform the 'village' into a vibrant destination for locals and visitors alike, whilst maintaining its historic character.
Stated within the full planning application, lodged to the Highland Council, the developers outline plans to meet a growing demand for facilities following an influx of tourists venturing to the north, whilst offering "new and diverse" functions to complement the existing businesses in Tongue.
They said: "The proposal is for the renewal of an existing commercial site with business, services, community, tourist, retail, accommodation and food and drink facilities. The proposals will return previously lost services to the community and a level of expansion appropriate for the growth of local tourism in the Highlands area."
If approved, the project will consist of a range of amenities including a restaurant, bakehouse, stonecutters, shop, events space, accommodation for both staff and visitors, new fuel pumps and a microbrewery.
Developers pledge to retain and restore several buildings on the site including the Bakehouse, the Stonecutter's shed and Dunvarich House, which will form as the focal point for the development, alongside the construction of several new buildings.
A spokesman for Wildland said: "These plans remain at a very early stage. We look forward to progressing these plans in due course."
Councillor Linda Munro welcomed the proposals saying: "Burrs Grocery Store and Delivery Vans were an institution in their own right.  Tales of generations of staff, local characters and customers are the stuff of legends.
"I wish the proposed new development every  success and welcome the jobs and new services the development will bring to our area.
"I am particularly heartened by the commitment of the developer to work with established  businesses across the area to develop new services and not as far as possible displace  established  businesses already here.  There is plenty room for development and no need for displacement."