VIDEO: Thousands line the streets of Lerwick as Up Helly Aa celebrations begin in morning parade
By
Chris MacLennan
January 28, 2020, 1:49 pm
Updated: January 29, 2020, 2:20 pm
Thousands gathered in the centre of Lerwick today to capture their first glimpse of the Guizer Jarl and his squad in full Viking regalia as celebrations for Up Helly Aa got underway.
The Guizer Jarl's outfit is kept under wraps until the big day as each year homage is paid to a single Norse god, determining the theme of the festival.
This year's head of celebrations Liam Summers opted to depict the king of the Norse gods Odin, Lord of the Gallows.
Despite snow showers reported on the mainland, revellers were treated to favourable weather as the rain held off and created "the best possible conditions", as described as one local and former member of two Jarl Squads.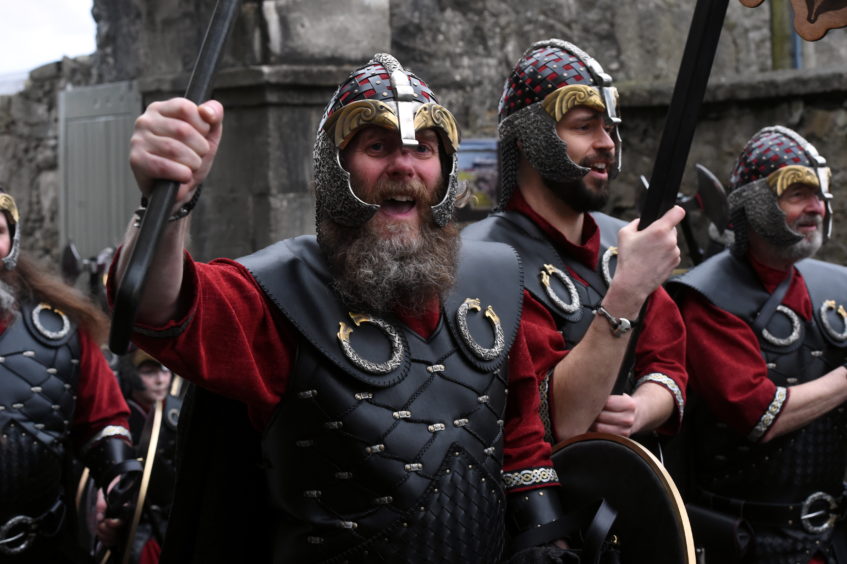 Hundreds of schoolchildren marched through the streets of the Shetland capital in jubilant spirits, breaking into song as they eagerly awaited their first glimpse of the Guizer Jarl.
Tourists from all over also got into the spirit of the event, dawning their finest horned hats and Viking attire to join the celebrations.
However, it wasn't just visitors though who were attending their first Up Helly Aa, with three-year-old Leva Smith from Drumrossness perched on top of a cannon at Fort Charlotte to pick up the best possible view.
She said she was most looking forward to seeing the Vikings, before breaking into a verse of the traditional Viking song.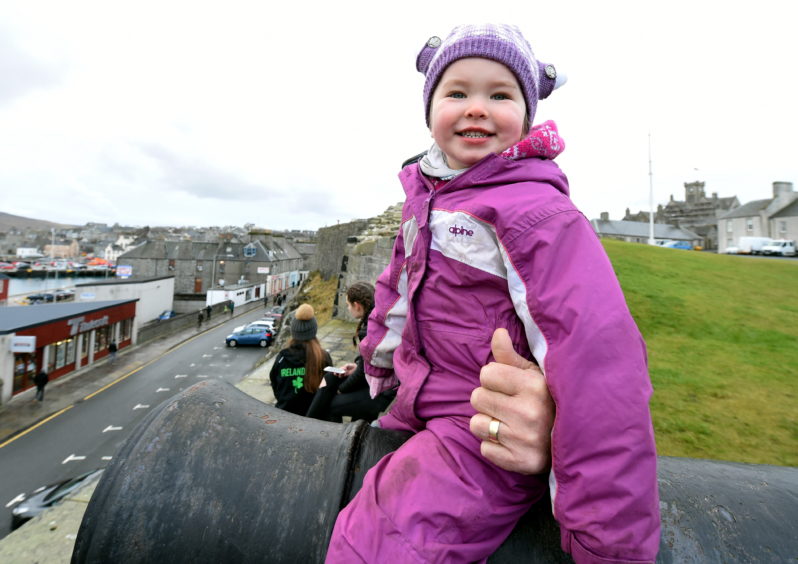 The Jarl Squad departed the Islesburgh Community Centre before meeting a packed audience at the Toll Clock Shopping Centre.
The procession departed through the town towards Market Cross before culminating for a group photo next to the galley by the ferry terminal.
Scores of family members and tourists descended on the Jarl squad shortly after as shields and helmets were passed for pictures and chat.
Mr Summers said the early morning parade through Lerwick had escalated the celebrations to be "up there" with his greatest days.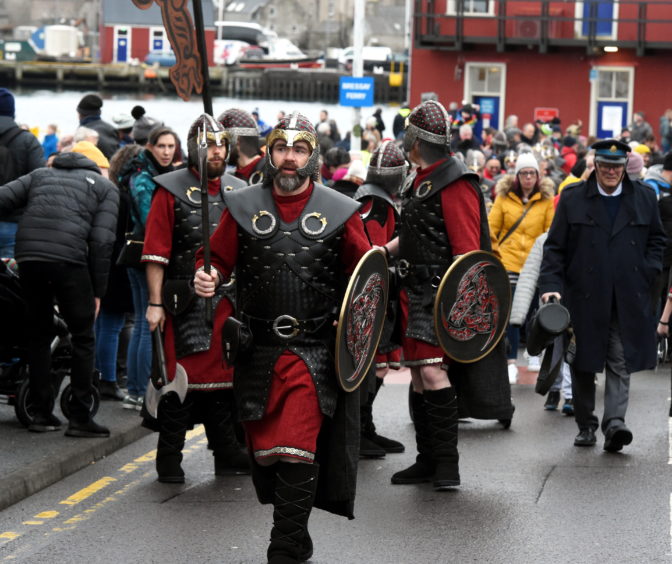 He said: "It's hard to put into words. It's a stunning feeling. You don't really get much chance to stop but it's amazing to see so many people here with smiles on their faces. It's so uplifting.
"I am very proud.
"We couldn't have asked for better weather. It's a community thing and it's just so great to see so many of the local community out here today.
"It's so far been all I have been hoping for and more."