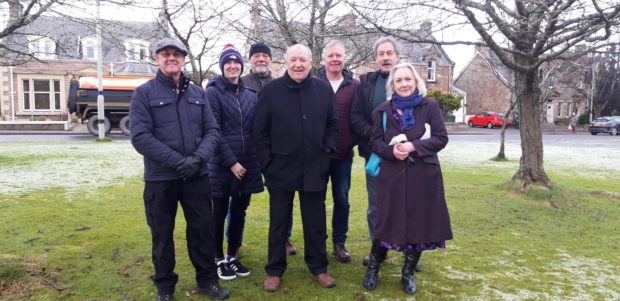 Highland Councillors have knocked back controversial plans for 24 homes in a secluded part of Inverness.
The proposals – lodged by an R Matheson – outlined the development of 24 residential units at Drakies House in Culcabock Avenue, comprising six detached villas, four town houses, six semi-detached houses and eight flats.
In light of numerous objections from concerned locals regarding road safety, increased congestion and traffic flow, councillors of the South Planning Committee visited the development site yesterday to see it for themselves.
Upon returning to council headquarters for their first committee meeting of the year, members were met by applause from local residents as they voted unanimously against the plans.
Councillors criticized plans for a new access road to the site joining with the B9006 Old Perth Road in light of the increased traffic flow it would bring to the area.
Chairman Jimmy Gray brought forward the motion on the grounds it did not comply with the Moray Firth Local development plan.
He said: "The reason I asked for the site visit was so the South Planning Committee could see the site itself, could see the whole layout itself. I am going to move for refusal on this application and I am going to do so on the grounds that I don't believe it complies will with our local plan.
"[Old Perth Road] is one of the most intensively used stretches of road in the Highlands. It services Raigmore Hospital and the ambulance station. There are around 3,500 people going in and out of Raigmore hospital as well as the ambulance service.
"Any intensification at all causes a problem and causes major issues."
Councillor Carolyn Caddick said: "The local development plan is trying to avoid intensification at the moment and until we get the whole Inshes road layout sorted – as part of the bigger picture – I think this is premature.
"I think adding anything extra into the mix at this time is a mistake so I second that motion."
Culcabock and Drakies community council chairwoman Etta Mackay said she was thrilled by the news saying "common sense had prevailed".
She added: "It was good for me to see that the traffic was a huge consideration in rejecting the application and the fact that nothing is going to be considered until Inshes road is reviewed.
"I think the site visit showed councillors exactly the message we were trying to get across to them."
Meanwhile, local resident Joan McEwen added: "I don't think the proposed access should ever have come to committee in the first place. It was quite obvious that it was against the local development plan. I think that common sense of councillors prevailed."