Watch as torches ignite the night sky as Viking tradition of Shetlanders burns long into the night
By
Chris MacLennan
January 29, 2020, 6:50 am
Updated: January 29, 2020, 12:57 pm
Thousands lined the streets of Lerwick last night as the incredible torchlight procession and burning of the galley brought Up Helly Aa to a roaring conclusion.
The passion of hundreds of locals for their Viking heritage was strongly displayed, with visitors joining in the festivities.
And after months of tireless preparations, the festival was over again in little more than an hour – with the traditionally decorated galley reduced to cinders in minutes to cap off the evening.
The smell of burning paraffin from the torches coupled with billowing smoke high into the night sky wowed the crowd, who belted out cheers and songs as almost 1,000 guizers marched through the streets.
Guizer Jarl Liam Summers led his merry squad of 55 men and seven children past Lerwick Town Hall before a large flash in the sky began the incredible ignition of 1,150 torches in tandem.
The guizers proceeded through the surrounding streets, singing to their adoring audience before gathering in a park as the galley was set alight and the procession flung their lit torches on board.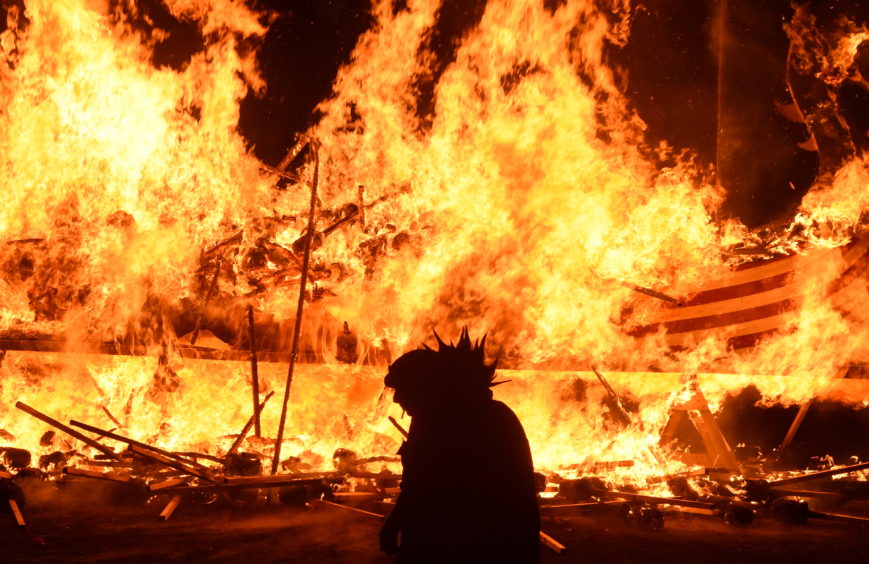 In total, 47 squads took part in the evening's event with only the Guizer Jarl's squad dressed in Viking attire, as some more unusual and rather quirky outfits followed behind.
Keen attendees began lining the walls of the park more than two hours before the event, beating off competition – and the threat of rain – to secure a good vantage point to take in the action.
The cold evening was calm and still, creating the perfect conditions for the culmination of celebrations.
Scores of visitors gathered to witness the marvel at hand, with some travelling for more than two-and-a-half days to take in the spectacle.
Adolfo Jimenez, who travelled on his own from Mexico City, said: "We actually have an ambience, an environment and a feeling which is special.
"You can feel the vibe and the sense of community as everyone gets together. You just feel the energy that people put into it and as a visitor, they have been overwhelmingly nice."
Others didn't have to travel as far to sample the action, with Ann Bull and her husband travelling from Chelmsford.
Mrs Bull said: "I am glad I came early to secure a spot but it has been fantastic. We have found the people of Shetland to be so welcoming.
"We are very much glad that we came and we would definitely come back."
The celebrations did not end there for revellers, however, as squads and their families dispersed into the night to visit town halls, schools and other venues around the local vicinity where celebrations continued well into the small hours.