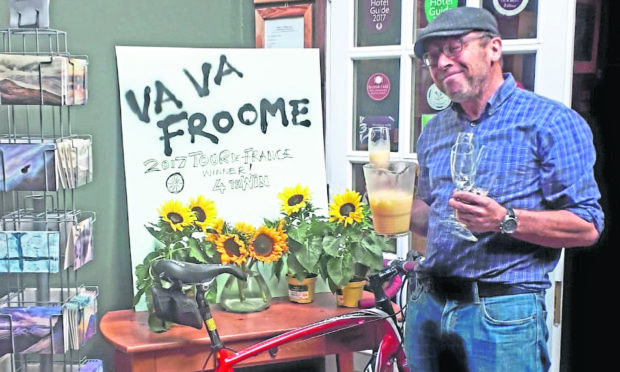 When David Wilson's spine snapped, leading to a cancer diagnosis, there were fears he would be left paralysed.
But the cyclist and mountaineer had his back rebuilt and went through gruelling chemotherapy – and now, just a year later, he is planning a very physical challenge to raise funds for charity,
The Fort William man, who is 60, has journeyed across the globe to the far reaches of the Himalayas, Greenland, Norway and New Zealand. And now he is cycling from London to Paris.
In the summer of 2018, he was cycling the Great Divide Mountain Bike Trail – a 3,083-mile off-road ride from Canada to Mexico – when his back began to hurt.
He cut the trip short, putting his injury down to old age and wear and tear.
And in February last year his spine suddenly snapped due to a form of blood cancer called Multiple Myeloma.
Following his devastating diagnosis, Mr Wilson – owner of the Limetree Hotel, restaurant and art gallery in Fort William – was transferred to hospital in Glasgow where he underwent surgery to rebuild his spine.
He explained: "I was taken from the Belford Hospital to Inverness, then transferred from Inverness to Glasgow to the surgeons there and they were able to rebuild my spine by putting in a scaffolding in my back with titanium and screws. That stage was touch and go on whether I would be paraplegic now and being an outdoors geezer I was pretty fed up about that."
Following a successful surgery, the visual artist began to slowly walk again before enduring a rigorous six month cycle of chemotherapy to attack the disease.
On September 20, he then received a stem cell transplant, giving him a new lease of life.
The father-of-two said: "I had a very adventurous life.
"I have been in situations where death has been very close to me, people have been killed right next to me but I have always felt there was a way in those situations that you could get out of them but with cancer – like this particular cancer – there is no escape. You're in the hands of the disease and you have to take your chances when you get them."
Now in remission, Mr Wilson is aiming to defy the odds by cycling 500km from London to Paris in September, arriving in Paris exactly a year following his stem cell treatment.
He has now launched a Just Giving page in the hopes of raising £1,500 for Myeloma UK towards finding a cure for the crippling disease.
What is Myeloma?
Multiple myeloma, also known simply as Myeloma, is a form of blood cancer arising from plasma cells causing problems to various areas of the body such as the spine, skill, pelvis and ribs.
It develops in abnormal plasma cells, which release a large amount of a single type of antibody – known as paraprotein – which has no useful function.
Myeloma affects where bone marrow is normally active in an adult, such as in the bones of the spine, skull, pelvis, the rib cage, long bones of the arms and legs and the areas around the shoulders and hips.
Each year in the UK, approximately 5,700 people are diagnosed with myeloma.
Myeloma mainly affects those over the age of 65, however it has been diagnosed in people much younger.
In the early stages of developing the disease, patients rarely experience side effects and is only diagnosed through routine blood or urine tests.
As the disease progresses, the cancer can cause a range of problems including aches and tender areas in your bones, causes bones to break and fracture easily, kidney problems and repeated infections.
Patients can also become lethargic, weak and short of breath – caused as a result of anaemia.
In most diagnosed cases of myeloma it cannot be cured, however, treatment can be given to control the condition and minimise its effects for several years.
Treatment includes anti-myeloma medicines to destroy the cancer cells or control the cancer if patients suffer a relapse as well as a range of medicines to prevent or treat side effects of myeloma.