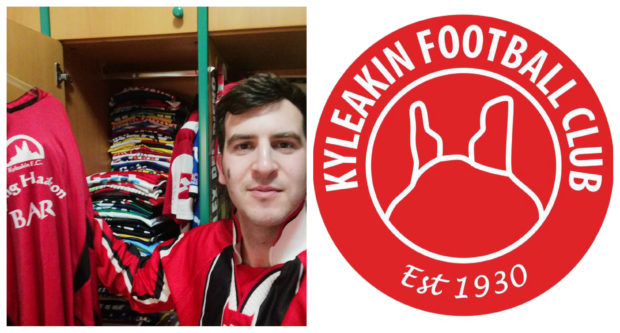 A football team from Skye has helped an Italian man in his quest to complete a unique football shirt collection showcasing the clubs of hundreds of countries and numerous amateur teams.
Riccardo D'Agnese, who is from Pescara in Italy, contacted Kyleakin FC, based in the south of Skye, to inquire if it would be possible to gain a shirt from the club to add to his eclectic assortment.
The 29-year-old got more than he bargained for as the club opted to send two shirts for his collection.
Mr D'Agnese, who is a marine biologist, began collecting shirts in 2004 after being inspired by his grandparents' gift of a Juventus shirt for his 13th birthday.
He then received an Ajax shirt from his Dutch parents, with the joy of receiving those shirts sparking the beginning of a collection that now consists of about 165 tops.
While he started-out with some of the biggest names in world football, there are now shirts there that few football fans can say they own.
Mr D'Agnese said: "The motivation behind my collection is that I love football.  I love the football clubs, their colours, their crests and the history behind each team.
"I decided around seven or eight years ago that my goal would be to create a collection of club shirts from each country or territory in Europe that has its own league, whether recognised by Uefa or not."
The collection has grown to include some incredibly rare shirts, including a shirt from Tristan da Cunha, one of the most remote islands in the world, the shirt of Rothera FC, the official football club of the UK's research station in Antarctica, and a jersey from the Svalbard isle, a remote Norwegian territory situated halfway between Norway and the North Pole.
Kyleakin Football Club manager David Butcher said: "It is slightly odd to think that a small village-run football team from Skye has support from other parts of the world, but the village here is so inclusive and we have many people who have come from all over to work here, so I suppose it is fitting that a little bit of Kyleakin is displayed in other parts of the globe.
"Riccardo's vast collection is impressive and we are quite proud that we have been able to assist him.
"And it makes it all the sweeter that ours is one of the final shirts he needed to complete his collection."
The Italian stores each shirt in a wardrobe dedicated to the collection, with the strips displayed in order of first collected to his latest arrival.
He then composes an entry in a document noting the season it was worn, the player who wore the shirt and its origin country.
He added: "I know that in the UK there are a lot of islands with their own leagues not included on the football pyramid of England and Scotland.
"Where there is a place with its own identity and with its own football league, I need to have a shirt from there."