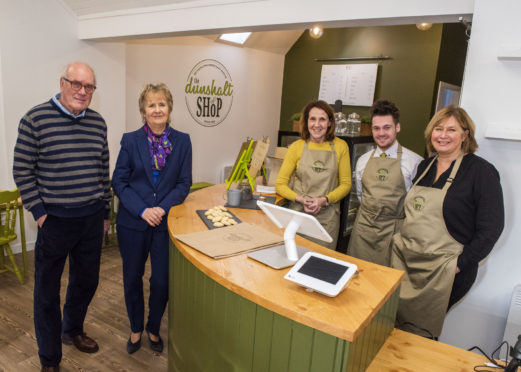 More than £1million is being awarded to eight community projects throughout the north by the Scottish Land Fund.
Six groups in the Highlands and Islands can now purchase land or buildings while two in Moray will also benefit.
A community development company on the island of Colonsay has been awarded £390,000 for land on which to build affordable homes.
The money will be used to buy land around Scalasaig as part of a project to build homes and business units for island residents.
In Moray, Forres Town Hall will soon be in the hands of Forres Area Community Trust, which has been awarded £116,365 to purchase it.
The hall on the High Street will provide community facilities, meeting rooms, study and workshop areas, training facilities and co-working desks.
Elsewhere in Moray, the site of the former Tomintoul secondary school is to become plots for affordable homes, following the award of £183,800 to Tomintoul and Glenlivet Development Trust.
On Skye, a grant of £177,500 to Carbost Community Shop will allow the village to buy their local shop which sits close to both the Talisker distillery and to the Fairy Pools, a renowned natural attraction.
Meanwhile, Portree and Braes Community Trust have been awarded the £55,241 that will allow them to buy part of "The Lump", the area overlooking Portree Bay, and two nearby areas of land in order to increase the amount of greenspace available for residents.
In Invergarry, Glengarry Community Woodland has been awarded £25,189 to buy three acres of land in order to improve access to the community woodland, provide space for events and to set up a tourist accommodation business.
In Drumnadrochit, Glen Urquhart Rural Community Association has received a grant of £88,225 to purchase the local tourist information office and develop it to include a baggage transfer service for tourists and to create a green transport hub, including e-bike hire for the local community.
Also celebrating is Arkaig Community Forest which has received £36,088 to purchase an area of woodland that includes Clunes Forest School, in order to create opportunities for conservation, recreation and outdoor education.
Caitlin McNeill, director, Colonsay Community Development Company, said: "I've grown up watching a community of volunteers working so hard to sustain and protect the island for the likes of myself, and my brother.
"Had it not been for a community-led social housing project nearly 20 years ago, it is unlikely that we would have had the opportunity to stay here as kids. We know first hand the difference projects like this make."
Cabinet Secretary for Land Reform Roseanna Cunningham said: "The Scottish Land Fund continues to support a wide range of projects and these most recent awards  – from woodlands to shops and from community centres to housing – demonstrating the quality and variety of community projects right across Scotland."