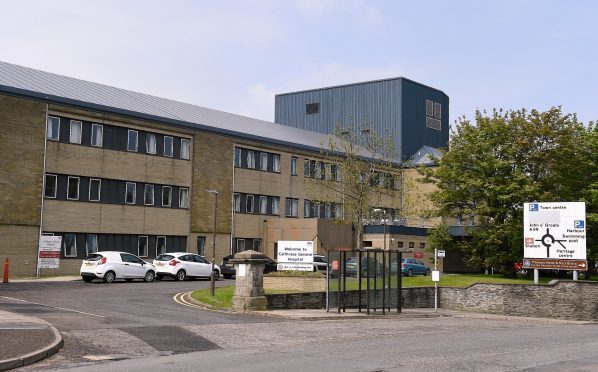 Only nine of 152 pregnant mums in Caithness gave birth in the county last year– sparking renewed calls for an urgent review of maternity services in the far north.
The Caithness Health Action Team (Chat) claim the majority of mums-to-be are being unfairly treated – facing 'unacceptable risks' by having to make a 100-mile journey to Raigmore Hospital in Inverness.
The campaigners are furious that only one in 17 pregnant mums – 6% – in the county gave birth at Caithness General in Wick in 2019.
They claim gynaecology clinics have dropped also since 2017, from 145 to 10 last year.
NHS bosses last night said they were looking into the maternity statistics, and said they believed some mothers were choosing to travel south.
Chat has campaigned tirelessly since the consultant-led maternity service at Caithness General in Wick was axed in 2016, being reduced to midwife-led.
Last year First Minister Nicola Sturgeon pledged to investigate following an ambulance journey of one mother-to-be who gave birth to her premature twin boys 52 miles apart.
Chat are now seeking an urgent Scottish Government-led review of the situation in light of the latest figures.
In a letter to the Scottish health secretary Jeane Freeman, Chat secretary Maria Aitken said: "At the moment, it is not a safe model because of the increased risk during travel and uncertain transfers of labouring women.
"It is also significantly impacting on mother's perinatal mental health and their families' mental health."
And Chat member Lynne Duff said: "We are not going to give up on this until we are listened to and action is taken. We won't stop. The health board can't ignore us and the people of Caithness forever."
The 36-year-old mother-of four said the changes since 2016 have left the area with a poorer service, with nearly all mums-to-be faced with making marathon return trips on the A9 in all weathers.
The campaign group is also concerned that around half the Caithness births at Raigmore have been inductions, which they claim is a high level.
NHS Highland's head of midwifery Mary Burnside said the midwife-led community unit (MCU) in Caithness was set up following a review which flagged up safety concerns with the established service.
She said the midwives work closely with the consultant obstetric team in Raigmore in caring for women who give birth there.
Ms Burnside added: "The birth rate for women in the CMU in Caithness is comparable to the other CMUs in NHS Highland for 2017 and 2018.
"However we have seen a significant drop in birth numbers for 2019, where women who could have given birth in Caithness General are choosing to give birth in Raigmore. NHS Highland is exploring the reasons for this."
She added that the rate of inductions is rising nationally though the health board is examining the reasons for the number performed on Caithness women last year.