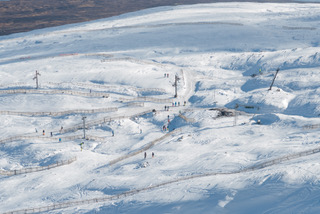 Thousands of skiers and boarders headed to Scotland's slopes yesterday.
All five mountain resorts – The Lecht, Glenshee, Nevis Range, Glencoe and Cairngorm – were open.
Ironically it was the fourth time Glencoe Mountain has started its season this winter because of the fluctuating weather conditions.
But Glencoe Mountain boss Andy Meldrum, who is also chair of Ski Scotland, predicted a good season ahead if the weather settles down.
More than 900 people had flocked to Glencoe by noon.
Heavy snowfalls and calm, cold weather have brought a much-needed boost to Scotland's outdoor snowsports centres.
Until now, strong winds and high temperatures had hampered many of the site's efforts to open consistently for skiing, snowboarding and sledging.
Lowther Hills Ski Club at Leadhills has also been offering snowsports, including at night under floodlights.
Mr Meldrum said it was hoped there would be enough snow to last until the end of the season, adding: "Until now, the season had been challenging. This is the fourth time we have opened this season and the numbers are about the same as last year – which was a bad season.
"But looking ahead it now looks good. The weather tends to balance itself out over the season and the snow has come in time for half term and hopefully will be there for Easter.
"The conditions are excellent – there are huge amounts of snow. And this time it looks like it's going to stick.
"The main issue until last week was that we got a couple of days with lots of snow and then we had a period of very mild, wet weather and most of the snow disappeared again."