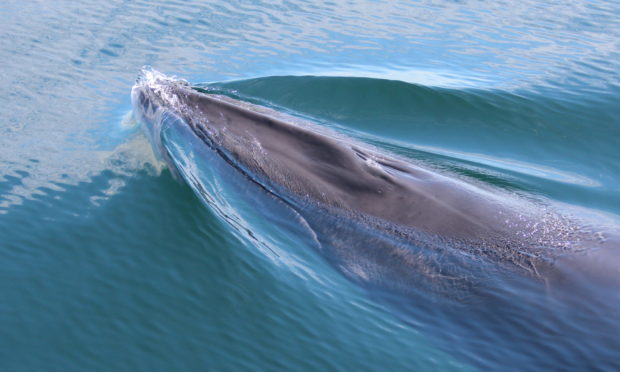 Minke whales could be present around the Hebrides all year round, a study has found.
The marine mammals, which can grow up to 35ft long, were thought to swim in the area only in the summer months – but research has discovered they are now appearing during winter.
The Hebridean Whale and Dolphin Trust (HWDT) carried out research last year with the conservation charity's specialised research yacht Silurian.
The minke sightings add to growing evidence that the species may be present all year, but researchers hope long-term year-round data will shed further light on the whale's habits.
Becky Dudley, marine biodiversity officer at the HWDT, said: "Our new winter surveys and the contribution of our wonderful volunteers offer us the opportunity to study the year-round presence and distribution of some remarkable species for the first time.
"Our established summer expeditions, when most species are present in Hebridean waters, remain vital. But embarking on year-round surveys will shed new light on marine wildlife, and help us answer questions such as whether minke whales are present in the Hebrides all year, and if distribution of harbour porpoise changes between summer and winter."
Since 2003, Silurian has travelled over 120,000 kilometres and in 2019, she carried 23 expeditions stretching from as far north as Cape Wrath, south to Islay and Jura, and as far west as the Flannan Isles.
They recorded a total of 3,381 individual animals sighting, including 2,740 individual cetaceans and 40 basking sharks.
They also included 1,407 common dolphins, 50 Risso's dolphins, 124 minke whales and 589 seals.
Cetaceans recorded in winter included common dolphins, harbour porpoise, killer whales and minke whales.
Marine mammals recorded at other times also included bottlenose dolphin, common seal, grey seal, Risso's dolphin and white-beaked dolphin.
To date, 23 of the world's estimated 92 cetacean species have been documented off Scotland's west coast, with many being of national and international conservation importance.
Findings from Silurian's expeditions have contributed to the designation of a protected area for harbour porpoise and the identification of proposed marine protected areas for Risso's dolphins, minke whales and basking sharks.