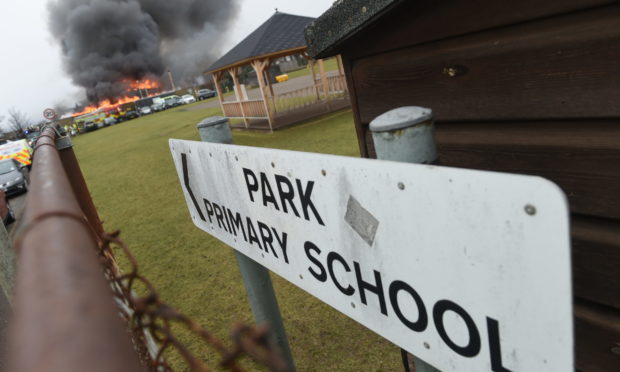 Dozens of families turned out at an emergency public meeting last night to learn about how the blaze will affect their children's education.
Parents packed into Invergordon Academy to hear about the efforts being made to get children back into education by the end of the week.
Primary one to seven youngsters will be based at the town's secondary school, while nursery children will be accommodated within South Lodge Primary School.
Highland Council chief executive Donna Manson said: "My message is that we all have to be vigilant over the months ahead in terms of how the children are feeling about it, and also how you are feeling about it as parents.
"We all have a sense of relief, but we know that that can turn into anxiety and we need to be there to support each other in the coming months.
"You need to talk to us, you need to raise anything with us, any worries at all we will respond to that.
"You have got a fantastic community here, with great relationships, and the support I have seen already has been fantastic. It really is an opportunity for people to come together."
During the one-hour meeting attended by local councillors and council officials, parents asked questions about how their children would be interwoven with the day-to-day running of the academy.
The meeting took place as firefighters remained stationed at the smouldering remains of Park Primary, dampening hot spots.
Rab Middlemiss, senior fire officer for the Highlands, said work would remain ongoing at the site.
He said: "At the moment we are dampening down the last parts of it.
"You might even see little bits of steam or smoke coming off it the next couple of days.
"We are going to keep a watching brief on it because we have unsupported walls, and there are some deep seated pockets of fire within them."
With just one day to go until pupils try to regain a normal routine, Mrs Manson appealed for people to keep away from the wreckage.
She added: "Please help us with that. You are a community that sticks together and we really don't want anyone near that site."