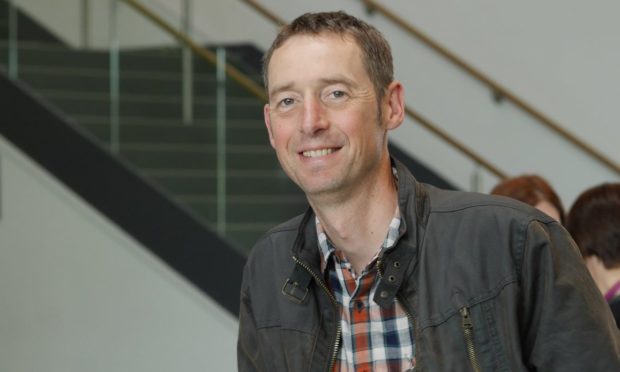 Tributes have been paid to a north lecturer who fell to his death on a Highland peak.
Inverness College UHI Architectural Technology lecturer Ewan Lyons was climbing Beinn Dearg near Ullapool on March 13 – but was reported missing around midnight from the Corrie Ghranda area.
Mountaineers from Dundonnell Mountain Rescue Team and a coastguard helicopter battled tough conditions in the early hours of March 14 as extensive searches were carried out across the 3,556ft peak.
But his remains were discovered the following day by two walkers lying in snow in the Gleann na Sguaib area.
A spokesman from Dundonnell MRT said: "We had 19 members turn out and we searched all night before the team was stood down early in the morning because weather conditions had deteriorated to the extent that it was not safe to carry on searching.
"The next day, four of us went out to look at a couple of areas during the day time because again the weather was pretty atrocious and so where we thought he might be, it was too dangerous to put people in because of the high avalanche risk."
A total of 23 Dundonnell mountaineers were airlifted onto the peak by the Stornoway Coastguard helicopter around 4pm on Sunday alongside nine members of RAF Lossiemouth MRT to retrieve his body.
Teams trekked across rough terrain for around five hours before finally reaching the base camp at Inverlael Forest.
He added: "The team itself put in around 550 man hours for that weekend it was quite intense, a lot of boots on the ground. The stretcher carry out from the western purchases back to Inverlael forest took us nearly short of 5 hours to get back to roadside.
"A very difficult one. A few of the guys knew Ewan so it was a difficult and heartfelt recovery. Our thoughts are definitely with the family at this very sad time. "
Mr Lyons joined Inverness College UHI as a mature student in 2010, studying HNC Construction Management before progressing onto BSc (Hons) Architectural Technology.
He went on to gain his Chartered status before joining the College as a part-time lecturer in 2014.
Fellow staff members and pupils have now paid tribute to him, describing him as an "enthusiastic and excellent lecturer".
Taking to social media, a college spokeswoman said he would be a "massive loss" to the institute and the climbing community.
They said: "In his spare time, Ewan loved venturing outdoors and he was an accomplished climber and hillwalker. He had a particular interest in building conservation and enjoyed spending his summer months on the hillside repairing old bothies.
"He will be a massive loss to Inverness College UHI as well as the wider climbing and hillwalking community. Our thoughts are very much with his friends and family."
Former student Alannah Greig added: "A lovely guy and an enthusiastic lecturer who offered great support when I was going through a tough time. His passion for his job was so apparent. He will be missed."