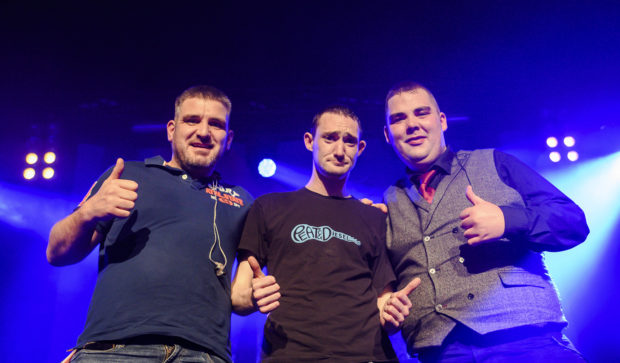 The Western Isles trio described themselves as a "kitchen band" when they began their musical journey.
Less than two years later, however, Peat & Diesel – featuring fisherman Calum "Boydie" MacLeod, airport electrician Innes Scott and delivery driver Uilleam MacLeod – have attracted a global audience for their idiosyncratic mix of Celtic punk and stomping rock.
And the Stornoway musicians are now the stars of a new 90-minute TV documentary which airs this week and chronicles their rise to fame.
The group allowed access over a nine-month period, which highlighted their remarkable transformation from a local phenomenon, who performed at children's parties, to a sell-out sensation at Glasgow's Barrowlands earlier this year.
And while their plans for the next three months have been interrupted by the Covid-19 pandemic, the Scots have already scheduled a series of concerts in November and December in Stirling, Inverness, Skye, Oban, Forres and the country's four biggest cities, Aberdeen, Dundee, Glasgow and Edinburgh.
Singer Boydie emerges as the pivotal figure in the BBC Alba programme, reacting with amazement to his sudden rise from solitary maritime worker to modern-day Alex Harvey.
He was the catalyst for Peat & Diesel's success when he posted one of their songs online and woke up eight hours later to find it had 25,000 views on Facebook.
In the build-up to one of the early concerts, he said: "It's ridiculous. We've been signing autographs for the last two hours and I only came out to get a burger.
"I'm adjusting to it. I don't know whether I'm adjusting to it in a good or a bad way, but we've travelled straight from the croft to the main stage at a major festival and it's not always easy.
"The whole thing is totally bonkers and I've gone through a lot of emotions, from happiness to fear to struggling to understand it all.
"But whether you get a full lift of prawns at sea or a full crowd at a venue, it's the same."
Mr Scott told the Press and Journal that none of the band members had been prepared for the overwhelmingly positive response to their two CDs – Uptown Fank and Light My Byre – let alone how their Christmas song, Fairytale of Stornoway, stormed the national charts and gained banner headlines towards the end of last year.
But he said he and his mates were delighted with how the filming process had gone, while they performed at various venues and festivals on a whistle-stop tour across the country, including HebCelt, Belladrum and Celtic Connections, even as scores of youngsters everywhere began mimicking their songs.
He told the P&J: "You sometimes see programmes where people are acting up for the cameras, but we were just trying to take it all in.
"What you see is what you get. There are no frills, no nonsense. If it looks like there was a bit of fear in our minds before we went on stage, that's exactly the way it was.
"The filming process ended up being like an agony aunt, and it helped that the camera crew worked so closely with us and knew we had other jobs as well as being musicians.
"Boydie writes all the songs, so there were times where we didn't have a clue what we were doing.
"He would send us a video of a new song on his phone and, although we had never played it together, he would suddenly decide to sing it in the middle of a concert.
"But that means there's nothing synthetic about our music. It's raw, but it's real.
"But it seems to work for Peat & Diesel, which is great because we were kitchen musicians a couple of years ago."
The group have taken a pause while their Stornoway studio is shut and they are currently self-isolating, to ensure they are ready for their busy schedule later in the year.
They are looking forward to returning to the Barrowlands on November 27 after enjoying a "fantastic" night there in January.
Mr Scott said: "When we walked in there and saw the size of the arena while it was empty, and thought about all the big bands who had played there, you could sense there was something special about it.
"It was daunting to know the place would be packed later on but, once we were on stage and had done two or three songs, we loved it and the crowd and the atmosphere was fantastic."
From the Barrow to the Barrowlands will be shown on BBC Alba on Friday at 9pm.