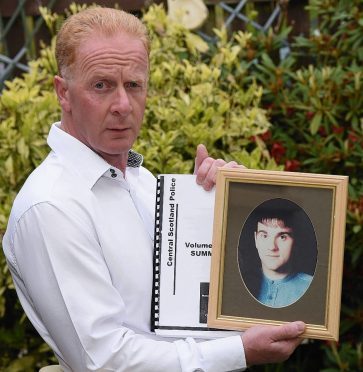 The family of a north man found dead in 1997 have spoken of their fear a "culture of secrecy" within Police Scotland will hamper an independent review currently being undertaken by Merseyside Police.
Kevin McLeod's family have longed for answers to his unexplained death at Wick Harbour in February 1997 – which they believe was murder – and are now concerned the current investigation will be compromised.
The family have raised fresh concerns after they discovered similarities in a case independently reviewed by Durham Constabulary into the unsolved death of Lanarkshire woman Emma Caldwell.
Durham's Chief Constable Michael Barton told Holyrood's sub-justice committee in 2018 that there was "a lack of openness in certain parts of the organisation" and that he came up against a "culture of secrecy" in the force.
Chief Constable Barton said: "It's that secrecy, that lack of transparency, that's incredibly unfair to everybody because there isn't speedy justice".
The review had been called for after officers were found to have obtained communications data without judicial permission after seeking to identify the source of a journalist's story when information regarding the murder inquiry into Emma Caldwell's death was leaked.
In 2017, correspondence from then Deputy Chief Constable Iain Livingstone revealed police had failed to investigate Mr McLeod's death as murder after instruction had been delivered by the Procurator Fiscal.
In their bid to seek justice for Kevin, his family put the "deeply disturbing" concerns of Chief Constable Barton to Assistant Chief Constable Ian Critchley, who is currently undertaking the cold-case review of Mr McLeod's death.
Allan McLeod, Kevin's uncle, said: "While we welcome the review being carried out by Merseyside, we suspect that all the authorities involved, including the Crown Office, were complicit in covering up this serious failure by police.
"Merseyside Police now have to establish why this failure by police to conduct a murder investigation was concealed from the family for two decades and who or what were they protecting.
"We question why the local prosecutor failed to follow up on his instruction to police.
"We now question whether Scots cops will tell truth to English cops."
He added: "The family's one concern regarding Merseyside's independent cold case review is that it is under the 'direction and control' of the Criminal Allegations Against the Police Division (CAAP-D).
"Under the 'direction' of the CAAP-D is acceptable, but under their 'control' does not sit well with the family when the CAAP-D and Crown Office and Procurator Fiscal Service (COPFS) clearly have many serious questions to answer in this case, as well as the police."
The family's concern comes as they believe it was evident as far back as 2002 that police had failed to act on the procurator's instruction to investigate the death as murder.
Allan McLeod added: "We now hope that Merseyside will finally establish when the COPFS were made aware of this criminal negligence by police and what action, if any, had they taken."
In correspondence between Assistant Chief Constable Critchley and Mr McLeod's family, he said the investigation continues during the coronavirus pandemic.
A Crown Office spokesman said it would be "inappropriate to comment", however, they will continue to keep the family updated at "regular interviews on the progress of the review".
Assistant Chief Constable Duncan Sloan said: "At the request of Police Scotland, Merseyside Police is reviewing the initial investigation by Northern Constabulary into Kevin Mcleod's death in 1997, along with all further inquiries carried out by Police Scotland since its formation in 2013, therefore we are unable to comment."