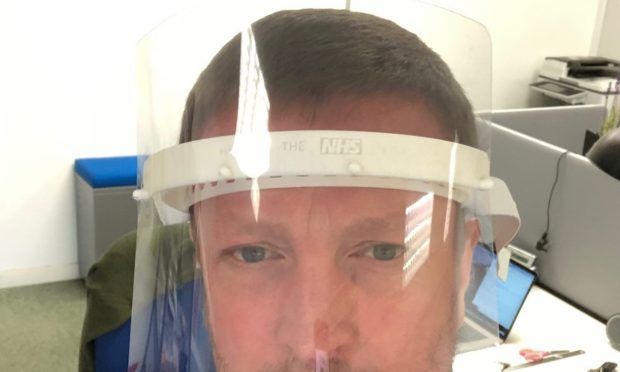 They are more accustomed to making bespoke awards for glamorous events.
But now a volunteer team of eight workers from Midton Acrylics factory in Lochgilphead, Argyll, is producing 500 face shields a day to help protect frontline health workers from coronavirus.
Deliveries of the personal protection equipment will be received at Oban's Lorn and the Islands Hospital and Mid Argyll Community Hospital in Lochgilphead today.
The factory, which is a global manufacturer of cast acrylics, normally produces deal toys, acrylic embedments and memorabilia for specialist events – including making the Royal Television Society Awards.
The the factory was forced to close its doors when lockdown began but its owners were keen to help aid the country in a time of national crisis and started producing the equipment after seeing on the news there was a shortage.
Within two weeks, £5,500 has been raised through a Just Giving page and the small team is now producing 500 visors a day.
Graham Ramsay, one of the company directors, said: "We realised we could easily make face shields from the stock we had at the factory.
"It became more and more difficult sourcing the clear sheet for the visor, so we put out a local appeal for film.
"The community response was amazing. Everyone wanted to help do their bit for the cause.
"We also started a crowdfunding page and hit our original target within a few hours of launching.
"We are not charging for the face shields. They are being made available free of charge."
The design for the equipment was created with the help of the hospitals and 4C Engineering in Inverness.
Now the team are receiving more requests from other organisations in need of the protective wear.
Mr Ramsay said: "We are doing 2,000 for Oban hospital and 2,000 for Lochgilphead but after that we run out of funds and material.
"We are looking at changing the design to deliver a more mass-producible product on behalf of the government."