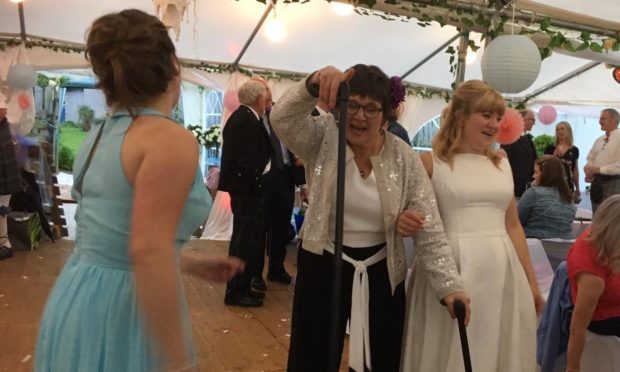 A drug which allowed an Inverness-shire woman with MS to dance at her daughter's wedding is being made available in Scotland.
The multiple sclerosis (MS) Society Scotland has welcomed the decision to approve the drug that can improve the walking of people living with MS for use on NHS Scotland.
Nina Campbell, 56, has been living with MS for more than 25 years.
She began taking fampridine (Fampyra) when she moved to the Highlands and has seen a huge impact.
She said: "One of the most fantastic things was on my daughter's wedding day I didn't have to use my wheelchair at all which I had fully expected to and fampyra definitely played a role in that.
"Even when the dancing started I was still standing.
"A treatment like this invaluable and so positive, the more people who want to and can access it, the better."
She added: "When I was first told that I'd progressed from relapsing remitting to secondary progressive MS my consultant at the time simply said, 'there's nothing to do, just look after yourself'. But when I moved further north I had a new consultant who suggested I try Fampyra and it's been brilliant.
"Since starting Fampyra I have had more movement in the toes of my right foot, which I hadn't been able to do for years and the progression of my condition has been much slower, I have more energy and just feel able to do so much more."
Scotland follows Wales to offer this treatment on the NHS. It is taken as a tablet and helps about one in three people who take it.
Morna Simpkins, Director for MS Society Scotland said: "MS is relentless, painful, and disabling, but this treatment could be life-changing for many people living with the symptoms of MS – making an important difference to walking, energy levels and a person's ability to manage MS."
She said it is up to Scottish health boards to ensure that those who can benefit from it can access it.