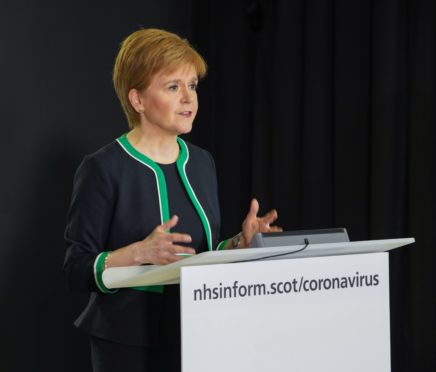 Lockdown-hit businesses left worse off by Scottish Government support than their English counterparts have been given a glimmer of hope.
A number of firms in the north and north-east called for a rethink on business grants, after missing out on tens of thousands of pounds.
In Scotland, retail, hospitality and leisure companies with premises with a rateable value of £18,000-£51,000 are eligible for a one-off £25,000 payment.
But elsewhere in the UK, firms are being paid the same for every eligible property.
Yesterday the first minister promised "further announcements, initiatives and interventions" from her government to help coronavirus-struck firms.
Nicola Sturgeon told her daily press conference: "Finance Secretary Kate Forbes updated the cabinet this morning on businesses who not getting any help at all currently and those who feel they should be getting more, and how we could look to deliver more help.
"We are determined to do as much as we can to help because this is a situation that's unprecedented for the economy.
"This is a health crisis but also an economic crisis."
When the business support was announced by the UK Government, the Scottish Government initially indicated it would be mirrored.
Ms Forbes later said the £25,000 funding, and £10,000 grants for smaller firms, would be limited to one per company because more were eligible for help through Scotland's small business bonus scheme.
Retail, hospitality and leisure companies were also given a business rates holiday UK-wide, while Scotland extended this to aviation as well.
The Scottish Government has been at pains to emphasise that their decisions meant more companies, like those in the creative and seafood industries, were receiving aid when they otherwise would not.
But the difference means businesses like Highland firm Ashers Bakery are missing out on tens of thousands of pounds compared to competitors elsewhere.
If the same rules were followed here, the family business would receive another £125,000 in relief.
The company has 12 stores but has scaled back to trade from only its Nairn base during the lockdown.
Around 120 of 155 staff have been furloughed and trade has fallen by around 75%.
Joint managing director Alister Asher told The P&J: "I hope they see sense.
"When we come through this the government should be able to say they helped all they could.
"There might be unfortunate businesses given a grant that still don't survive but ministers will be left to think long and hard about why they didn't do more if sufficient support is not given.
"Just because we are a larger firm doesn't mean any of this is any easier for us."